Tour bus drivers obstruct traffic at Taoyuan airport
Dozens of tour buses yesterday clogged roads at Taiwan Taoyuan International Airport in a third day of protests against the Ministry of Transportation and Communications.
On Wednesday, a demonstration by New Taipei City Tour Bus Drivers' Union members used large tour buses to clog streets near the ministry to back demands for concessions from the government and the dismissal of Minister of Transportation and Communications Hochen Tan (賀陳旦) and Directorate-General of Highways (DGH) Director-General Chen Yen-po (陳彥伯).
A total of 28 tour buses passed through the airport yesterday morning, with the motorcade congesting roads leading to the terminals.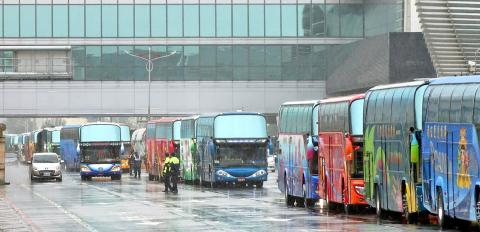 Tour buses yesterday clog up roads at Taiwan Taoyuan International Airport to back tour bus owners' demands that the government purchase their aging buses at market prices.
Photo: Yao Chieh-hsiu, Taipei Times
The Aviation Police Bureau said that officers were mobilized to direct traffic and keep the buses on an auxiliary road between the two terminals to minimize their effects.
There were no reports of travelers being unable to catch their flights, as the bureau had asked passengers to use the Taoyuan International Airport MRT Line.
Drivers would receive fines for illegally parking and might be penalized for possible violations of the the Assembly and Parade Act (集會遊行法), the bureau said.
The buses left the airport in the afternoon, after which normal traffic flow was restored, the airport said.
The union is unhappy with what it says is the ministry's excessive demands on tour bus drivers following two major tour bus crashes.
About 100 union members participated in the protest, launched by union chairman Lee Shih-chia (李式嘉).
Some of them parked their tour buses on Taipei's Renai Road and Hangzhou S Road, while others drove around the block the ministry is on, honking their horns in protest and obstructing traffic flow.
The union has demanded that the government stop city, highway and freeway bus operators from offering charter bus services, and that tour bus operators be given discounts on licenses and fuel taxes.
The union said the ministry should recycle old tour buses by buying them from tour bus operators, adding that such firms should lead efforts to amend the Highway Act (公路法).
The costs of training tour bus drivers should be paid entirely by the government, the union said, adding that the government should cancel licenses for tour bus operators that do not use them for more than six months.
Responses by Hochen and Chen to the union's demands failed to appease protesters, with Lee threatening to go on a hunger strike because he has been unable to speak with Hochen in person.
The protesters said that they would not have started their demonstration on Tuesday if they did not want to sit down and talk.
The ministry has kept them outside and refused to let them see Hochen, they said, adding that no one has even bothered talking to them.
The Environmental Protection Administration has agreed to subsidize up to NT$350,000 each for the replacement of 480 tour buses manufactured before June 30, 1999, the DGH said.
It has also adopted tour bus operators' suggestion that drivers should be required to use licenses within two years after receiving them, instead of three years, it said, adding that it would have trouble meeting demands to reduce the time frame to six months.
Additional reporting by Chen Wei-han
Comments will be moderated. Keep comments relevant to the article. Remarks containing abusive and obscene language, personal attacks of any kind or promotion will be removed and the user banned. Final decision will be at the discretion of the Taipei Times.