Hung to push 'peace platform'
SKILLS TO PAY BILLS: Chiu Da-chan suggested that KMT chairman-elect Wu Den-yih 'use his influence' to raise NT$90 million to pay party employees' salaries next month
Chinese Nationalist Party (KMT) Party Chairwoman Hung Hsiu-chu (洪秀柱) is tomorrow to reiterate the party's "peace platform" at the ninth annual cross-strait forum between the KMT and the Chinese Communist Party (CCP) in Xiamen, China, KMT headquarters said yesterday.
Hung is the main proponent of the platform, which was passed during the 19th KMT national congress last year.
The platform centering on the so-called "1992 consensus" and Beijing's "one China" principle advocates Taipei proactively approaching Beijing to sign a peace treaty to end the standoff on both sides of the Taiwan Strait and "institutionalize" peace.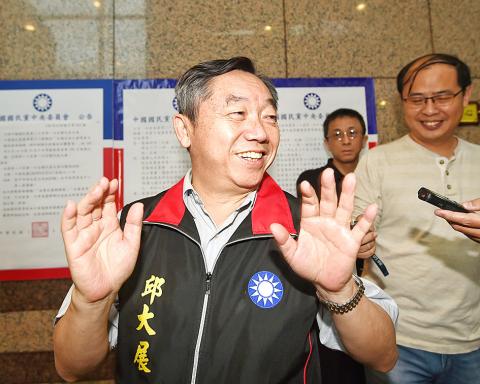 Chinese Nationalist Party (KMT) Administration and Management Committee director Chiu Da-chan speaks to reporters in Taipei yesterday.
Photo: Fang Pin-chao, Taipei Times
The "1992 consensus" — a term former Mainland Affairs Council chairman Su Chi (蘇起) in 2006 said he made up in 2000 — refers to a tacit understanding between the KMT and the Chinese government that both sides acknowledge there is "one China," with each side having its own interpretation of what "China" means.
Following her announcement on Wednesday that she would resign as chairwoman by the end of this month, Hung yesterday left for Nanjing, China.
She was greeted upon her arrival by China's Taiwan Affairs Office Minister Zhang Zhijun (張志軍), with whom she had a private meeting.
She is scheduled to meet with Taiwanese businesspeople in Huaian, Jiangsu Province, and attend several ground-breaking ceremonies for construction projects.
KMT headquarters was tight-lipped over what Hung had to discuss with Zhang during the closed-door talks, as well as details of her itinerary for yesterday and today.
Xinhua news agency quoted Zhang as saying that the CCP attaches a high level of importance to its relationship with the KMT, and is willing to engage in a dialogue and step up its communication with the KMT on the foundation of the "consensus" and its opposition to Taiwanese independence, thereby maintaining peaceful developments across the Taiwan Strait.
Hung is to meet with Chinese People's Political Consultative Conference Chairman Yu Zhengsheng (俞正聲) and a high-ranking Xiamen official tomorrow before attending an evening banquet, the KMT said.
She is to give a speech at the opening ceremony for the forum, in which she is to tout the platform and convey her hopes and vision for developments in cross-strait relations, the KMT said.
Separately yesterday, KMT Administration and Management Committee director Chiu Da-chan (邱大展) suggested that KMT chairman-elect Wu Den-yih (吳敦義) "use his influence" to raise money to pay KMT employees' salaries next month.
Chiu, who is in charge of managing the party's finances, made the comment at a news conference to announce the dates for the KMT's Central Committee and Central Standing Committee elections.
Chiu said that he briefed Wu on the party's financial situation, with Wu responding that he would "endeavor" to solve the shortage in funds, which exceeds NT$90 million (US$2.98 million).
Chiu, who tendered his resignation this month, said that he would begin work at a private foundation next month.
He said that he would offer Wu his assistance should Wu have trouble with the party's assets.
The Central Committee and Central Standing Committee elections are to be held on Sept. 9 and Oct. 1 respectively, he said.
Comments will be moderated. Keep comments relevant to the article. Remarks containing abusive and obscene language, personal attacks of any kind or promotion will be removed and the user banned. Final decision will be at the discretion of the Taipei Times.