Court upholds conviction of Keelung official Huang
The Taiwan High Court yesterday upheld a guilty verdict for former Keelung City Council speaker Huang Ching-tai (黃景泰) of the Chinese Nationalist Party (KMT), handing him a 15-year prison sentence with deprivation of civil rights for four years.
It was a reduced term for the 51-year-old Lee in the second ruling on the case after he was given a 20-year sentence by the Keelung District Court in the first ruling in August 2015.
The district court found him guilty of breaches of the Anti-Corruption Act (貪污治罪條例), including bribery, improper influence, accepting kickbacks, embezzlement of public funds and forgery of documents, starting in 2011 when he headed the Keelung City Council.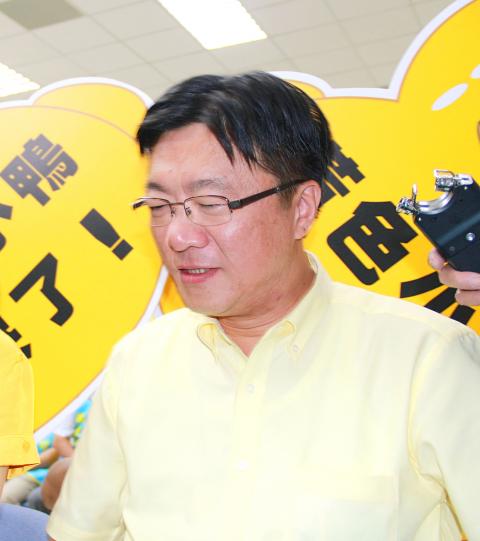 Former Keelung city council speaker Huang Ching-tai speaks with reporters in an undated photograph.
Photo: CNA
Evidence and witness testimonies indicated that Huang had embezzled public funds from the council amounting to NT$91.46 million (US$3.03 million at the current exchange rate) through falsified receipts and forged documents.
Other charges against Huang from the first ruling stemmed from his suspected involvement in real-estate development, improper influence and collusion with real-estate developers, including a luxury condominium complex built by JSL Group near Badu Train Station, along with a land revitalization project by Unison Developing Co and street expansion work near Keelung's Yuemei Road.
However, in the second ruling he was cleared of the charges related to the condominium complex and the road works due to insufficient evidence.
The investigation and the guilty verdict against Huang have likely derailed his political career.
He was seen as a rising star for the KMT in northern Taiwan after capturing the city council speaker position in 2010.
Huang was the KMT's nominee for the Keelung mayoral race in 2014.
However, corruption allegations forced the party to withdraw his nomination.
Huang quit the KMT and ran as an independent in the November 2014 election, but lost to Lin Yu-chang (林右昌) of the Democratic Progressive Party.
Comments will be moderated. Keep comments relevant to the article. Remarks containing abusive and obscene language, personal attacks of any kind or promotion will be removed and the user banned. Final decision will be at the discretion of the Taipei Times.