Reshuffle of no benefit to NSC: sources
LACKING DIRECTION: The National Security Council should not have judicial reform or polling experts in its leadership, as they do not suit the agency's role, an ex-official said
The purpose and duties of President Tsai Ing-wen's (蔡英文) National Security Council (NSC) are obscure, and despite a reshuffle of members, no clear strategic objectives have emerged, former national security officials said.
Tsai's appointments seem to support no particular policy direction, compared with the national security teams of former presidents Chen Shui-bian (陳水扁) and Ma Ying-jeou (馬英九), which highlighted foreign policy and cross-strait relations respectively, former officials said.
Former chief of the General Staff Yen Teh-fa (嚴德發) and academic Tsai Ming-Yen (蔡明彥) were sworn in on Monday last week as NSC secretary-general and deputy secretary-general respectively.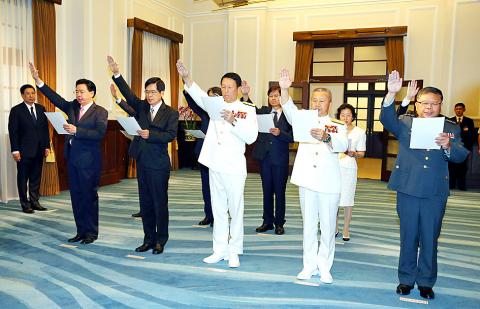 Secretary-General to the President Joseph Wu, National Security Council Secretary-General Yen Teh-fa, Chief of General Staff Lee Hsi-ming, Vice Minister of National Defense Pu Tze-chun and Vice Minister of National Defense for Armaments Chang Kuan-chun, left to right, are sworn in at the Presidential Office in Taipei on Monday last week.
Photo: CNA
The other two NSC deputy secretaries-general are polling expert Chen Chun-lin (陳俊麟) and national defense expert Chen Wen-jenq (陳文政). The five NSC advisers are lawyer and judicial reform leader Lin Feng-jeng (林?正), international finance lawyer Lin Liang-jung (林良蓉), Academia Sinica fellow and information security expert Lee Der-tsai (李德財) and former Mainland Affairs Council (MAC) deputy ministers Fu Dong-cheng (傅棟成) and Tung Chen-yuan (童振源).
Chen Shui-bian's national security team was focused on expanding foreign relations, and former NSC secretaries-general Chiou I-jen (邱義仁), Mark Chen (陳唐山) and Kang Ning-hsiang (康寧祥) were in charge of developing ties with the US, according to a source who spoke on condition of anonymity.
During the same period, NSC deputy secretaries-general and other council members — including now-MAC Deputy Minister Lin Cheng-yi (林正義) and Taichung Mayor Lin Chia-lung (林佳龍) — were responsible for analyzing foreign relations, the source said.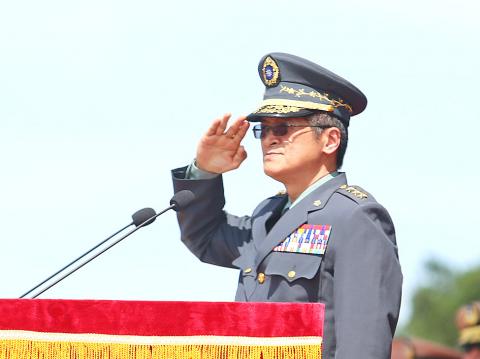 Former chief of general staff Yen Teh-fa salutes on May 18. Yen was sworn in as National Security Council secretary-general on Monday last week.
Photo: CNA
Ma was pushing the Economic Cooperation Framework Agreement with China and aiming to develop cross-strait relations, so his NSC appointments — including former NSC secretary-general Su Chi (蘇起) and deputy secretary-general Kao Charng (高長) — were designed to forward that goal, the source said.
Experts in cross-strait trade were later added to Ma's NSC team, including former minister of economic affairs John Deng (鄧振中) and former MAC minister Wang Yu-chi (王郁琦).
The NSC has four major roles: mid and long-term strategic planning, tactical operations for immediate purposes, daily administration and crisis management, former NSC deputy secretary-general Chang Jung-feng (張榮豐) said.
The NSC has to formulate plans for cross-strait and foreign relations to be employed over the next decade, but it also has to respond to rapidly changing events, such as the 1996 Taiwan Strait Crisis, which took place during former president Lee Teng-hui's (李登輝) tenure, Chang said.
"The NSC is very important if it is valued by the president, but not important at all if it is not valued by the president," Chang said.
The NSC advises the president on national security issues such as defense, foreign relations, cross-strait ties and major national emergencies, former NSC deputy secretary-general Michael Tsai (蔡明憲) said.
"It does not suit the NSC's purpose to have judicial reform and polling experts in the NSC leadership," Michael Tsai said.
The US last year passed the National Defense Authorization Act for Fiscal Year 2017 authorizing senior military exchanges with Taiwan, but Taipei has remained too conservative to seek increased military ties with the US, he said.
That Tung was appointed to the NSC last year after he resigned as Cabinet spokesman suggested that "Tsai Ing-wen does not place a high value on NSC functions," the source said.
Tung is rumored to have been appointed representative to Thailand, the source said, adding that the president should use the opportunity to reorganize the NSC, as Tsai Ming-Yen is the only official tasked with foreign policy management, and that provides too little support for a Democratic Progressive Party government that is seeking to expand the nation's international space.
Comments will be moderated. Keep comments relevant to the article. Remarks containing abusive and obscene language, personal attacks of any kind or promotion will be removed and the user banned. Final decision will be at the discretion of the Taipei Times.