'Dull' electricity pylons could turn artistic
Democratic Progressive Party (DPP) Taichung city councilors Chen Shih-kai (陳世凱) and Wang Li-jen (王立任) on Friday proposed a design contest to create artistic transmission towers for the city's coal-fired power plant.
The pylons used by the plant — the world's largest coal-fired power plant — cover the landscape like a forest, the councilors said, adding that they are an eyesore.
The councilors proposed a cooperative agreement with Taiwan Power Co (Taipower) to turn the pylons into sculptures inspired by artist Elena Paroucheva's work in France.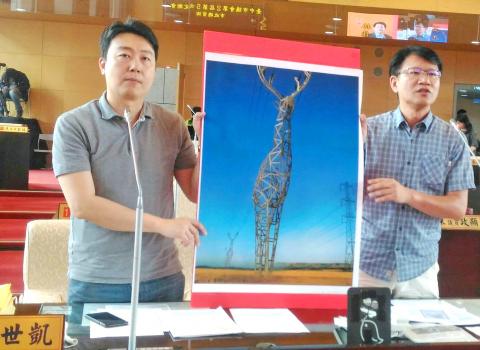 Democratic Progressive Party Taichung city councilors Chen Shih-kai, left, and Wang Li-jen yesterday hold up an image with an example of an artistically styled transmission tower at a city council meeting.
Photo: Huang Chung-shan, Taipei Times
Taichung Mayor Lin Chia-lung (林佳龍) expressed support for the proposal, which is awaiting approval by the utility.
The pylons are necessary for the transmission of power to customers, but they litter the landscape with their "dull" monotony, the councilors said, adding that they can be seen from Taichung's Dadu Mountain (大肚山) and Chiayi's Sikou Township (溪口).
"As there is no way to eliminate them, we should look at how to improve them," they said.
Examples of how to reduce the effect of transmission towers on the landscape can be found in Iceland, Hungary and Russia, with human and deer-shaped towers of varying heights to match the terrain, the councilors said.
The tower design contest would be the second organized by Taipower, with another contest held late last year.
The councilors said the city should seek cooperation with the utility on the contest and allow the public to help transform the shared landscape.
Artistically designed pylons could also boost tourism, they said.
Lin said that artistic towers could put the city on the map from an arts and culture point of view in the lead-up to the World Flora Expo and East Asian Youth Games, both of which are to be hosted by Taichung.
The city's Economic Development Bureau and Taipower are to discuss how to create pylons that are creative and safe, he said.
Comments will be moderated. Keep comments relevant to the article. Remarks containing abusive and obscene language, personal attacks of any kind or promotion will be removed and the user banned. Final decision will be at the discretion of the Taipei Times.