Academics' pay proposal panned
The wages of full-time research assistants at institutions that apply for government funding are to be evaluated based on expertise rather than academic degrees starting in August, the Ministry of Science and Technology announced yesterday, drawing criticism from labor rights advocates.
In a bid to reform diploma-centered wage standards, the ministry said that institutions would be given the right to adjust the wage standards of their assistants, but they would be advised to take into account the assistants' duties and professional skills.
Under current standards, salaries for assistants with master's degrees are pegged at NT$36,050 in the first year of employment, which is increased to NT$36,880 in the second year, the ministry said.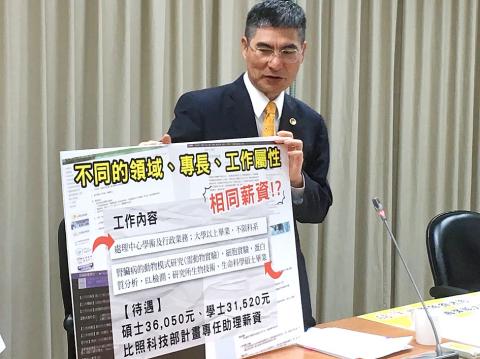 Minister of Science and Technology Chen Liang-gee holds a chart explaining salary standard adjustments for research assistants in state-funded institutions on Monday in Taipei.
Photo: Wu Po-wei, Taipei Times
Although the wage standards published since 2005 were only intended to be used as a reference, most institutions continue to set their wages according to these standards, it added.
Across public and private institutions, students with the same work load are given different wages based on their different degrees, the ministry said, adding that it hopes to reform the standards to reflect other criteria.
Critics expressed concerns that the reforms might result in wage cuts.
Institutions tend to first cut personnel expenses, National Taiwan Normal University Department of English professor Huang Han-yu (黃涵榆) said.
"The policy would be like canceling the minimum wage of workers," Taiwan Higher Education Union researcher Chen Po-chien (陳柏謙) said.
The policy would give more flexibility to individual institutions, Chen said, adding that schools might employ more part-time assistants to replace full-time ones, resulting in lower wages for assistants.
Asked if the ministry had consulted the union for its view on the issue, Chen said it had not.
"After the policy was announced I checked with professors I am acquainted with. None of them seemed to have any knowledge of the policy," he said.
The union is planning its response to the amended policy, Chen said.
Comments will be moderated. Keep comments relevant to the article. Remarks containing abusive and obscene language, personal attacks of any kind or promotion will be removed and the user banned. Final decision will be at the discretion of the Taipei Times.