'One Belt' would doom southbound policy: think tank
The success of China's "One Belt, One Road" initiative would consolidate its economic and political dominance in the world, further alienate Taiwan and spell doom for the Democratic Progressive Party (DPP) administration's "new southbound policy," the National Policy Foundation, a Chinese Nationalist Party (KMT) think tank, said yesterday.
China last month held a summit on the initiative in Beijing, which was attended by 29 heads of state, but the DPP administration and the majority of Taiwanese media outlets treated the event with indifference, foundation chief executive officer Sun Lih-chyun (孫立群) told a news conference in Taipei.
The DPP administration introduced the "new southbound policy" as an answer to the Chinese initiative, hoping to compete with China in terms of overseas investment — a move that is both "dubious and regrettable" as trade does not have to be a "zero-sum game," Sun said.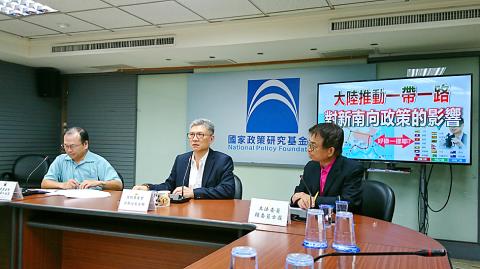 National Policy Foundation chief executive officer Sun Lih-chyun, center, and Chinese Nationalist Party (KMT) Legislator Lai Shyh-bao, right, speak at a news conference in Taipei yesterday.
Photo: Chen Yu-fu, Taipei Times
All the "new southbound policy" has amounted to so far is the DPP's promise to subsidize tourist groups from Southeast Asian nations when they visit Taiwan for four days and three nights or longer, he added.
In contrast, the scope of the One Belt, One Road initiative, albeit ambitious, would have "unimaginable" results if only a part of it were attained, he said.
"Money talks, bullshit walks," Sun said, urging President Tsai Ing-wen (蔡英文) to "stop bullshitting" and promptly figure out a way to respond to China's rising economic influence.
China plans to invest more than US$900 billion under the initiative to build infrastructure and establish 56 economic zones across Asia and Europe, the foundation's Economic Development and Financial Policy Department convener Lin Chu-chia (林祖嘉) said.
The overall value of bilateral trade China is to conduct with nations involved in the initiative is expected to reach US$4 trillion, Lin added.
It is worrisome that the government has not said over the past two weeks how it is to respond to the major economic game changer, in particular how it is to cooperate or compete with the initiative with the "new southbound policy," Lin said.
"While Taiwanese developers might not have the resources to secure large infrastructure bids under the initiative, which cost billions of US dollars, at least they will be able to win smaller bids that cost several hundred million dollars if we maintain a rapport and cooperate with China," he said.
"If we choose to compete with them, not only will we not secure any bids, but Beijing is going to exert its economic and political influence to limit our options, which will be very disadvantageous for our path southbound," he said.
KMT Legislator Lai Shyh-bao (賴士葆) said that the DPP administration turned down Beijing's invitation to join the China-led Asia Infrastructure Investment Bank, which kept the nation on the sidelines of the One Belt, One Road initiative.
"If we are frustrated that our international profile is limited by China; we should ask it for more international space," he said.
If the DPP government would not accept the so-called "1992 consensus," it should work out a new consensus that is mutually agreeable for Taipei and Beijing, as there would be no economic breakthrough without first settling political issues, he said.
The "1992 consensus" refers to a tacit understanding between the KMT and Beijing that both sides of the Taiwan Strait acknowledge there is "one China," with each side having its own interpretation of what "China" means. Former Mainland Affairs Council chairman Su Chi (蘇起) said in 2006 that he had made up the term in 2000.
Comments will be moderated. Keep comments relevant to the article. Remarks containing abusive and obscene language, personal attacks of any kind or promotion will be removed and the user banned. Final decision will be at the discretion of the Taipei Times.