Father Martinson remembered
BLESSING: George Martinson's brother talked of the priest's love for Taiwan, while Pope Francis and President Tsai Ing-wen praised him for his dedication to the nation
Father Gerald George "Jerry" Martinson, a US Jesuit missionary who lived and worked in Taiwan for 50 years, was praised at a memorial yesterday and Pope Francis sent a message describing him as a blessing for all people.
Martinson was also known as Uncle Jerry from his English teaching programs and his Chinese name Ting Sung-yun (丁松筠).
While doctors on Wednesday said he seemed to have died several days ago of a heart attack, the Chinese Regional Bishops' Conference later issued a statement saying that he had passed away earlier in the day.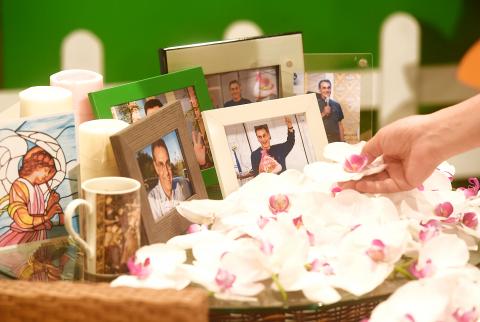 A person dedicates a flower to Father George Martinson at a memorial at the Kuangchi Program Service building in Taipei yesterday.
Photo: Chien Jung-fong, Taipei Times
The Ministry of the Interior had originally planned to hold a news conference yesterday to present Martinson with a national identification card for his work in Taiwan, but the news conference instead became a memorial for the beloved priest.
John Jao (饒志成), of the Society of Jesus, Chinese Province, said Martinson was "an optimistic, joyful priest filled with love."
"He looked at things positively and rarely complained about other people. Everyone who met him loved him," Jao said.
Although Martinson could not be on hand to accept the Republic of China ID card, he was sure to celebrate with the Lord above at officially becoming a Taiwanese, he said.
Jao added that Pope Francis sent a message after learning of Martinson's passing, saying that he was grateful "the Lord has given us Uncle Jerry," and that a lot of people in Taiwan, China and Asia knew him.
Control Yuan Vice President Sun Ta-chuan (孫大川), who once served as a secretary for Martinson, said that his concept of "family" was different from others.
Sun said he once invited the priest for dinner after work, but the priest declined and instead took his guitar to a construction site to eat with local and migrant workers.
Sun said that for the priest, the definition of "family" was extremely broad, including people from every class.
Minister of the Interior Yeh Jiunn-rong (葉俊榮) presented the ID card to Jerry Martinson's younger brother, Barry, who is also a Jesuit priest.
Barry Martinson, equally recognizable and known by his Chinese name Ting Sung-ching (丁松青), said that his brother had said to him before his heart surgery in April that if he died, he wanted people to know he loved them.
Choking back tears, Barry Martinson said: "I want to tell you now, I love you."
He said that although he and his brother have long felt they are Taiwanese, he was happy to accept the ID card for his brother.
Jerry Martinson is to be buried in the cemetery of the Catholic Chingshan Spirituality Center in Changhua, a Society of Jesus staff member said yesterday, after earlier reports had said he was to be buried in the cemetery of Fu Jen Catholic University's Faculty of Theology of St Robert Bellarmine in New Taipei City.
President Tsai Ing-wen (蔡英文) yesterday tweeted a message in memory of Jerry Martinson, saying the priest was a bona fide Taiwanese who dedicated decades of his life to the nation and deserves "our respect and gratitude."
The Buddhist Compassion Relief Tzu Chi Foundation also issued a statement expressing its condolences.
Jerry Martinson was born in 1942. He came to Taiwan in 1967 as a missionary and went to live in Hsinchu County.
He became a television producer and host, working at Kuangchi Program Service, a television studio that has been producing free educational programs in Taiwan since 1958.
This story has been updated since it was first published to correct the name of the cemetery where Father Jerry Martinson is to be buried.
Comments will be moderated. Keep comments relevant to the article. Remarks containing abusive and obscene language, personal attacks of any kind or promotion will be removed and the user banned. Final decision will be at the discretion of the Taipei Times.