Inauguration Anniversary: KMT struggling to stay relevant in changing politics
The Chinese Nationalist Party (KMT) dominated Taiwan for decades with its wealth and an iron fist — but it is now battling to keep a foothold in the nation's shifting political landscape.
Founded by Republic of China founder Sun Yat-sen (孫逸仙) and later led by Chiang Kai-shek (蔣介石), the KMT is at its lowest ebb in its more than 100-year history as it prepares to select a new leader today.
Cultivating warmer relations with rival Beijing backfired with a skeptical public that is increasingly embracing an independent Taiwanese identity.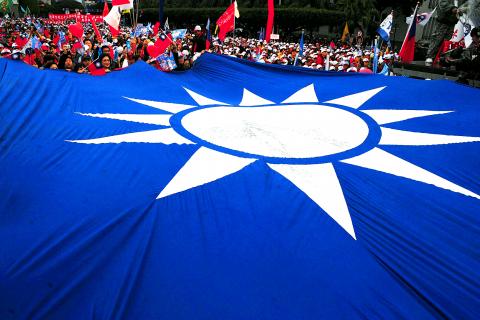 This file picture taken on January 8, 2012 shows a large Party flag is seen at a campaign rally by Taiwan President and ruling Chinese Nationalist Party (KMT) presidential candidate Ma Ying-jeou in Taipei. The KMT vowed to reform after a crushing defeat in 2016 elections. But more than a year on, the century-old party is still struggling to find its feet.
Photo: AFP
As a result, the KMT lost the presidency last year and, for the first time, its control of the legislature.
It vowed to reform, but has since been riven by infighting and targeted by a government probe into its extensive assets, which has seen its accounts frozen and hundreds of jobs axed.
While it is still the main opposition party, analysts say it is struggling to find direction.
"The demographic shifts in Taiwan do not bode well for the KMT," said Timothy Rich, an assistant professor of political science at Western Kentucky University.
More Taiwanese are opposed to eventual unification with China, Rich said.
As relations deteriorate rapidly between Beijing and President Tsai Ing-wen (蔡英文) of the Democratic Progressive Party, some in the KMT hope that cross-strait ties will remain a trump card — but others disagree.
"The KMT still believes its China card gives it an upper hand, but we can see from last year's elections that is not the case anymore," National Taiwan Normal University political science professor Fan Shih-ping (范世平) said.
"If your only hand is no longer working, what market do you still have in Taiwan?" Fan said.
Now, even Beijing is turning its back on the KMT, he said.
"The [Chinese] Communist Party is very pragmatic. It only wants to deal with people with influence and power," he said.
KMT Legislator Chiang Wan-an (蔣萬安), a US-educated former lawyer, won his first legislative seat for the party last year.
Chiang said his party needs to become more transparent and receptive to the younger generation.
"We need to broaden our vision," he said.
However, the six candidates running for party chair are very much the old guard. They include straight-talking KMT Chairwoman Hung Hsiu-chu (洪秀柱), who is pro-unification.
Analysts said she would marginalize the party even further if she won again.
Comments will be moderated. Keep comments relevant to the article. Remarks containing abusive and obscene language, personal attacks of any kind or promotion will be removed and the user banned. Final decision will be at the discretion of the Taipei Times.