Diplomatic failures have hurt tourism: KMT official
President Tsai Ing-wen (蔡英文) is to blame for the closure of Fiji's representative office in Taipei, and her diplomatic failings have led to fewer foreign visitors and harmed the tourism industry, a Chinese Nationalist Party (KMT) official said yesterday.
The Fiji Trade and Tourism Representative Office was shut down on May 10, the Ministry of Foreign Affairs said on Wednesday.
The closing of Fiji's representative office is another major setback for Tsai's administration, KMT Culture and Communications Committee deputy director Hung Meng-kai (洪孟楷) said yesterday, adding that the timing was significant, as it came just before Tsai's first anniversary in office tomorrow.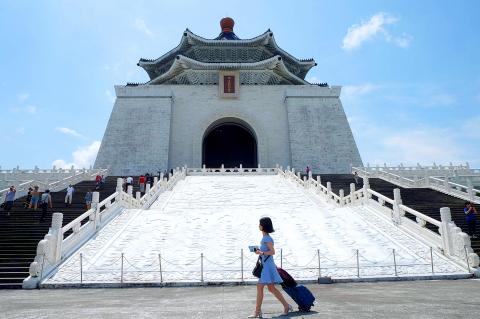 A tourist walks past Chiang Kai-shek Memorial Hall in Taipei yesterday.
Photo: Sam Yeh, AFP
"Throughout the past year, Tsai's government has had no answer for the cross-strait impasse, which has obstructed foreign affairs initiatives across the board," Hung said. "At this one-year anniversary, we can see that her administration has utterly failed at diplomacy."
When the KMT was the ruling party, the nation was able to participate in UN forums and international meetings, including the International Civil Aviation Organization, the World Health Assembly and the International Criminal Police Organization, he said.
"We were always able to attend these forums under the Olympic Games model [as Chinese Taipei] and had a presence alongside Chinese officials," Hung said. "But now with Tsai's government sticking to their political ideology, Taiwan has been refused at the door, and only China can attend these international forums."
"Tsai's government is downgrading our international presence, and people around the world believe that China's representation also includes us. This also makes it more difficult for us to participate in these forums in the future," he added.
Fiji likely closed its office due to limited financial resources, which forced it to adjust the number of foreign missions it supports, Deputy Minister of Foreign Affairs Wu Chih-chung (吳志中) said.
Taiwan's representative office in Fiji is to continue operations, ministry spokeswoman Eleanor Wang (王珮玲) said.
Comments will be moderated. Keep comments relevant to the article. Remarks containing abusive and obscene language, personal attacks of any kind or promotion will be removed and the user banned. Final decision will be at the discretion of the Taipei Times.