Bakery changed expiration dates
TAMPERING: Vigor Kobo could be charged with fraud and fined between NT$40,000 and NT$4 million for changing the validity dates of items that were about to expire
The Taipei Department of Health yesterday confirmed that Vigor Kobo (維格餅家), a popular bakery specializing in traditional Taiwanese cakes and pastries, had illegally changed the expiration dates of its products earlier this year.
The department said it received a report in March alleging that the Taipei-based bakery's factory had recalled nearly expired items from its retail branches and tampered with the expiration dates.
After the department's inspectors failed to find any problem with the labeling when they paid an unannounced visit to the bakery's flagship store, they contacted the person who made the report to gather evidence and turned the case over to the Shilin District Prosecutors' Office for investigation.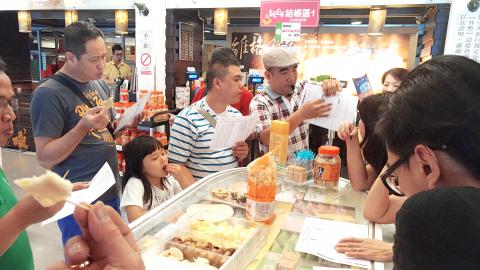 Customers try samples yesterday at Vigor Kobo's flagship store on Chengde Road in Taipei's Datong District after the bakery was accused of illegally changing the expiration dates of three kinds of cake.
Photo: Chang Yi-chang, Taipei Times
The department said it had talked to Vigor Kobo chairman Sun Kuo-hua (孫國華) and found that the expiration dates of 60 boxes of bamboo charcoal pineapple cakes (墨條酥), egg yolk pastries (蛋黃酥) and egg yolk pineapple cakes (鳳黃酥) had been extended by 10 days from their original dates.
The bakery used alcohol to wipe off the original expiration date labeled in Chinese and marked the altered dates in English under the label "EXP."
The department said the bakery might be charged with fraud and fined between NT$40,000 and NT$4 million (US$1,321 and US$132,161) for violating the Act Governing Food Safety and Sanitation (食品安全衛生管理法).
Food and Drugs Division Director Wang Ming-li (王明理) said the bakery had offered three ways of compensating customers.
Those who had purchased items carrying the "EXP" label would get a refund five times the original price, Wang said.
As for those who had bought any of the three types of products in question, they can take their purchase receipts to the firm's stores and either exchange them for new products or get a refund of two times the product price, she said.
Buyers of other types of products can also exchange them for new ones or get a refund, she said.
Several travel agencies said they would stop taking tourists to the Vigor Kobo store.
Chung Hsing Travel Service chairman Ringo Lee (李奇嶽), who is also the spokesperson of the Travel Agent Association, said that his agency would no longer list the bakery as a shopping stop.
"The bakery began its business by selling pastries to tour groups and was considered the leading brand in pineapple cakes. What it did was a show of contempt for consumers and the travel agencies that support them. We urge other agencies to join us in boycotting the bakery," he said.
Lee said it pained him to hear that a popular bakery like Vigor practices.
He said he had taken dozens of Chinese tour groups to shop at the store when cross-strait tourism was at its peak, including a tour group consisting of 1,000 leisure industry representatives from China.
Travel agents often introduced the bakery as the pride of Taiwan, which saw its business prosper through word of mouth and eventually became a publicly traded company, he said.
"The store has lost a lot of business following a decline in Chinese tourism, but that should not be an excuse to engage in illegal practices. The bakery could have reduced production or laid off workers, but it cannot sell expired food products," he said.
Taipei Association of Travel Agents chairman Wu Chih-chien (吳志建) said that he was also surprised to hear the news about Vigor Kobo, as a publicly traded firm should set higher food safety standards.
All travel agencies should avoid visiting the bakery in the short term, he said.
Comments will be moderated. Keep comments relevant to the article. Remarks containing abusive and obscene language, personal attacks of any kind or promotion will be removed and the user banned. Final decision will be at the discretion of the Taipei Times.