Committee urges action over problems at airline
DIRE STRAITS? A strike by FAT flight attendants over problems with wages and subsidies showed that the company has financial problems, a lawmaker said
The government should intervene in Far Eastern Air Transport's (FAT) operations to respond to a series of problems at the company, lawmakers on the legislature's Transportation Committee said yesterday, adding that the government should prevent the airline from going bankrupt.
Democratic Progressive Party (DPP) Legislator Cheng Pao-ching (鄭寶清) questioned Deputy Minister of Transportation and Communications Wang Kwo-tsai (王國材) about problems at FAT, the nation's second-oldest airline.
An FAT pilot in March was found to have a blood alcohol level in excess of legal limits.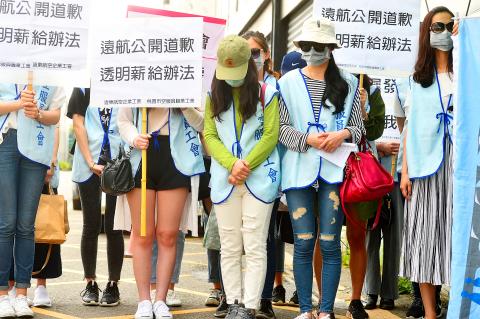 Flight attendant union members call on Far Eastern Air Transport to issue a public apology, and pay outstanding salaries and subsidies owed to staff yesterday outside the company's offices in Taipei.
Photo: Wang Yi-song, Taipei Times
A small strike on Saturday last week was organized by some FAT flight attendants to protest against the company's decision to lay off 17 flight attendants and postpone the payment of wages and subsidies.
"The flight attendants' complaints showed that the company might have a serious financial problem. [The minister of transportation and communications] should step in now before the situation gets worse," Cheng said, asking Wang if FAT would cease its operations like TransAsia.
The average age of FAT's fleet is 22, DPP Legislator Lin Chun-hsien (林俊憲) said.
He asked if the Civil Aeronautics Administration (CAA) would act on it only after something unfortunate happens.
Cheng also asked why the company has 14 engines rather than 16 even though it has eight two-engine aircraft in its fleet.
The airline can only use seven of its aircraft because the other one is under maintenance, Wang said, adding that it is the practice of the airline to dismount the engines whenever an aircraft is taken into maintenance.
Wang said that the airline has been having a difficult time acquiring spare engines because the aircraft in its fleet are very old.
The CAA said it is reviewing the documents on an aircraft that FAT is planning to lease and import to Taiwan by the end of this year, adding that the airline has been asked to limit its flight hours for safety reasons.
FAT said in a statement that it has entrusted a US firm with custom-making an engine for its aircraft, which is scheduled to arrive this month.
It said it has six more spare engines in storage.
TransAsia Airways, the nation's longest-running airline, last year announced its dissolution after failing to fix its financial problems.
The government was then accused of failing to act in time to control the damage caused by the airline's unexpected decision.
Comments will be moderated. Keep comments relevant to the article. Remarks containing abusive and obscene language, personal attacks of any kind or promotion will be removed and the user banned. Final decision will be at the discretion of the Taipei Times.