Scientists gather to solve disappearing bat mystery
DRAMATIC DECLINE: Feces samples pointed to the presence of heavy metals, which have been linked to nervous system and echolocation problems in bats
Researchers from Taiwan and Japan on Thursday converged on New Taipei City's Ruifang District (瑞芳) to investigate a sharp drop in the population of common bent-wing bats and establish a disease prevention network.
Ruifang's Haibin Borough (海濱) is home to the largest population of bent-wing bats in the region, but researchers have seen their numbers drop drastically from a high of 500,000 recorded 10 years ago to only 200,000 last year.
The bats become active around the Dragon Boat Festival, migrating in large numbers to Haibin throughout April and May, and start breeding in June, the city's Agricultural Department Director Lee Wen (李玟) said.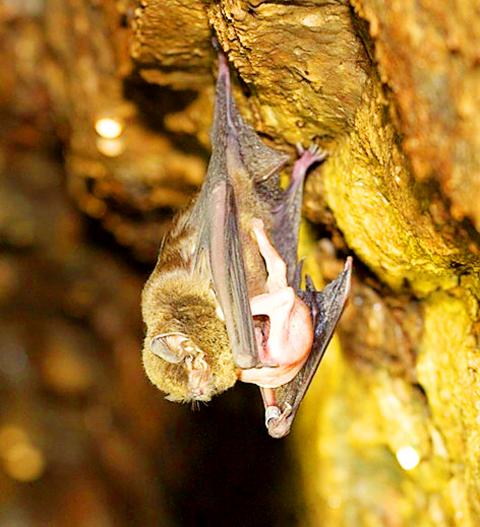 A bent-wing bat and its young hang in a cave in New Taipei City's Ruifang District in an undated handout photo.
Photo courtesy of Wu Chung-hsin's laboratory at National Taiwan Normal University
He said the bats stay until about September when they leave for their annual migration, but before then, tens of thousands of bats can be see filling the night sky in Haibin, searching for food.
The Rueifang District Office originally commissioned the Bat Association of Taiwan to investigate the Haibin bent-wing bat population 12 years ago, Lee said, but their numbers were found to have drastically decreased when researchers looked into the population a few years ago.
Heavy metals including lead, mercury and manganese have been found in samples of the bats' feces, said National Taiwan Normal University professor of life sciences Wu Chung-hsin (吳忠信), who has been studying the bats for more than 20 years
Research published this year in the scientific journal NeuroReport points to a correlation between the presence of the metals and damage to the bats' nervous systems and echolocation abilities, he added.
The study of disease in bats is important since they are mammals and share a phylogenetic relationship with humans, he said.
"Last year, we discovered a new strain of Lyssavirus in a bat in Tainan … If one day a virus develops that can be transmitted to humans, it could become an epidemic on the same scale as ebola," Wu said.
Wu on Thursday joined Professor Eiichi Hondo of Nagoya University, Professor Wong Min-Liang (王孟亮) of National Chung Hsing University and other researchers in Haibin to collect research samples.
He said the team would check the samples for metallic substances and harmful viruses to determine if the bats' condition poses any threat to the general population.
The city's Animal Protection and Health Inspection Office Director Chen Yuan-chuan (陳淵泉) said the team is taking more proactive measures than previously, when the office responded to threats with quarantines.
The network being established by the team would give researchers an early warning system that would allow them to better monitor, control and research the bats and prevent outbreaks, Chen said.
Comments will be moderated. Keep comments relevant to the article. Remarks containing abusive and obscene language, personal attacks of any kind or promotion will be removed and the user banned. Final decision will be at the discretion of the Taipei Times.