SEF head hints at a policy shift
Straits Exchange Foundation (SEF) Chairman Tien Hung-mao (田弘茂) yesterday suggested that President Tsai Ing-wen (蔡英文) might unveil a new cross-strait relations policy next month, on the one-year anniversary of her presidency.
"Let us wait until May 20 and see what the president says," Tien said in response to media reports that the government would make announcements in the second half of this year in hopes of breaking a deadlock with China.
According to Tien, although formal communication between the SEF and its Chinese counterpart, the Association for Relations Across the Taiwan Straits (ARATS), has been suspended, oral exchanges between the two sides remain smooth in the event of special situations.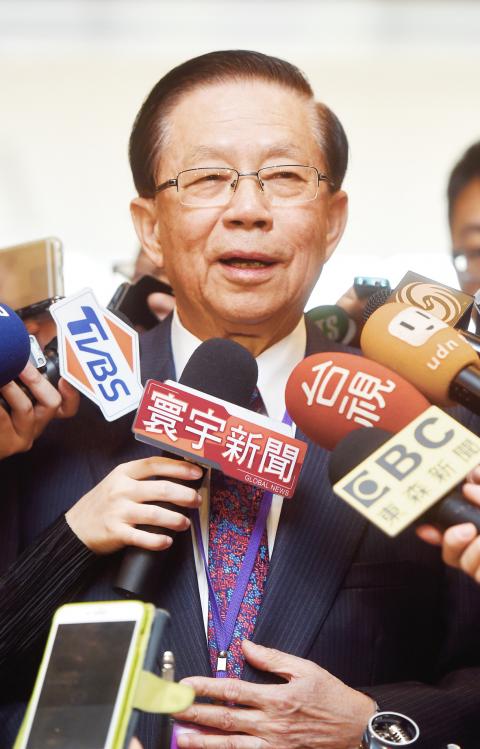 Straits Exchange Foundation Chairman Tien Hung-mao talks to reporters at a Lunar New Year party for China-based Taiwanese executives in Taipei on Feb. 5.
Photo: Chien Jung-fong, Taipei Times
With many technical matters to be handled across the Strait, Taipei and Beijing need to have communications so they can solve problems, he said.
He said that he hopes cross-strait relations can move forward in the second half of this year and that the SEF and ARATS will increase and normalize their contact.
He again invited ARATS Chairman Chen Deming (陳德銘) to visit Taiwan proper, or Kinmen County, later this year, promising that Chen would be "sincerely welcomed and received" if he did.
Chen last month turned down an invitation from Tien, saying: "I cannot possibly go [to Taiwan] as a foreigner."
Relations between Taiwan and China have been at a virtual standstill since Tsai and the Democratic Progressive Party came to power in May last year.
Beijing has frozen official talks between the two sides over the government's refusal to endorse the so-called "1992 consensus."
The so-called "1992 consensus," a term former Mainland Affairs Council chairman Su Chi (蘇起) in 2006 admitted making up in 2000, refers to a tacit understanding between the Chinese Nationalist Party (KMT) and the Chinese government that both sides of the Strait acknowledge there is "one China," with each side having its own interpretation of what "China" means.
Comments will be moderated. Keep comments relevant to the article. Remarks containing abusive and obscene language, personal attacks of any kind or promotion will be removed and the user banned. Final decision will be at the discretion of the Taipei Times.