Boycott travel to, products from PRC, rights groups say
Human rights advocates yesterday called for a boycott of travel to China and purchases of Chinese products, criticizing China's Taiwan Affairs Office for refusing to provide new information on the case of detained Taiwanese human rights advocate Lee Ming-che (李明哲).
"Even though the Taiwan Affairs Office kept emphasizing that Lee is healthy and well, there is no way to be sure because Taiwanese have not been allowed to contact with him, not even his wife," Taiwan Association for Human Rights secretary-general Chiu E-ling (邱伊翎) said.
The Ministry of Foreign Affairs should designate China a level "red" dangerous nation to which to travel, Chiu said.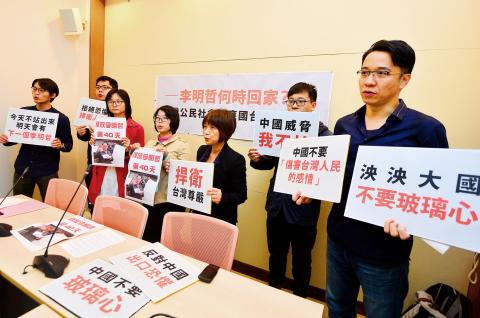 Members of human rights groups yesterday hold up signs at a news conference at the legislature in Taipei organized by the Taiwan Association for Human Rights to call for a boycott of travel to China and purchases of Chinese products after Beijing refused to provide further information on the case of detained Taiwanese human rights advocate Lee Ming-che.
Photo: Wang Yi-sung, Taipei Times
Lee disappeared last month after entering Guangzhou Province on what his wife has stated was a mission to share Taiwan's experience of democratization.
The Taiwan Affairs Office on Wednesday largely repeated previous statements, while refusing to answer questions about whether Lee had received the medicine sent by his family, whether he was being held in Guangdong's Zhuhai or whether he was being charged in relation to a law governing activities by foreign non-governmental organizations.
"What we find most unacceptable is the continued refusal to give out any information — making this yet another inexplicable disappearance without any follow-up," Judicial Reform Foundation executive director Kao Jung-chih (高榮志) said
Kao called on the Chinese government to provide proof of its charge that Lee had been involved in activities posing a threat to national security.
Wenshan Community College president Cheng Hsiu-chuan (鄭秀娟) — Lee's employer in Taipei and the unofficial spokesman for his wife, Lee Ching-yu (李凈瑜) — said the advocates' strategy now is to build on the outrage expressed in Taiwan to put pressure on Beijing, including a rally scheduled for May 19.
"We were originally hoping for a further response from the Taiwan Affairs Office, but we are moving on with other plans now that we know they intend to just keep parroting previous responses," she said, adding that there are also plans for Lee Ching-yu to travel abroad to publicize her husband's detention.
Taiwan Association for China Human Rights chairman Yang Hsien-hung (楊憲宏) called on the government to push for the passage of a Chinese human rights accountability act that would bar Chinese government officials linked to human rights abuses from entering Taiwan.
"We can't just keep holding news conferences and making a fuss every time someone is detained, there has to be a stick as well as carrot," Yang said.
Comments will be moderated. Keep comments relevant to the article. Remarks containing abusive and obscene language, personal attacks of any kind or promotion will be removed and the user banned. Final decision will be at the discretion of the Taipei Times.