Hunger strike launched to back referendum changes
The People Rule Foundation yesterday launched a 16-day hunger strike outside the Democratic Progressive Party (DPP) headquarters in Taipei, calling for the immediate passage of draft amendments to the Referendum Act (公民投票法).
"The DPP needs to follow through in pushing Taiwan down the last stretch to full democratization by putting the Referendum Act straight," foundation president Chen Lih-kuei (陳麗貴) said.
The act only allows for "bird cage" referendums because of provisions requiring a minimum 50 percent voter turnout, he said.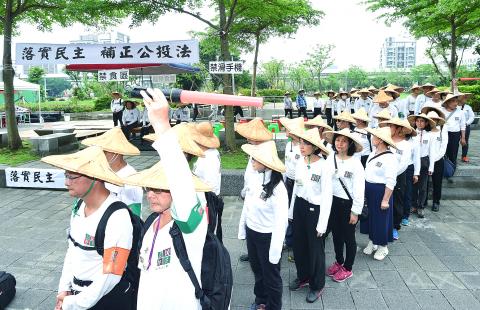 Members of the People Rule Foundation yesterday take part in the first day of a hunger strike outside the Democratic Progressive Party's headquarters in Taipei to back demands that the party push amendments to the Referendum Act through the legislature.
Photo: Fang Pin-chao, Taipei Times
The provisions have allowed opponents to use poll boycotts to defeat every referendum approved since the act was passed in 2003.
Once promulgated, amendments approved by the Legislative Yuan's Internal Administration Committee in December last year would lower the threshold to 25 percent.
Chen said foundation members had "no objection" to the text of the amendments, calling on the DPP to finish the legislative process before next month's anniversary of President Tsai Ing-wen's (蔡英文) inauguration.
Chen joined the hunger strikers in a tent across the street from the DPP headquarters, while dozens of other members marched around the building.
The hunger strikers are to fast in shifts until May 11.
"The DPP is probably worried that referendums will impede their ability to govern, and like any other governing party, it wants to avoid trouble and anything that could throw a wrench into winning another term," foundation member Chen Heng-hsin (陳恆信) said, adding that the protesters were concerned that amendments could be shelved indefinitely if the DPP fails to act.
"It will just become more shameless," Chen Heng-hsin said, adding: "Why should something this important be put off? What is more important to Taiwan's democracy?"
Five of the past six approved referendum topics would have passed if the amendments had been in place, he said.
Despite being billed as the leader of the hunger strike, foundation founder Lin I-hsiung (林義雄), a former DPP chairman who quit the party in January 2006, was not at yesterday's protest. He is reportedly to participate only on the final day.
Former national policy adviser Wu Li-pei (吳澧培) visited the site yesterday, hoping to pay his respects to Lin.
Additional reporting by Su Fang-ho
Comments will be moderated. Keep comments relevant to the article. Remarks containing abusive and obscene language, personal attacks of any kind or promotion will be removed and the user banned. Final decision will be at the discretion of the Taipei Times.