Ministry urged to focus on public childcare facilities
The Ministry of Health and Welfare's new office for addressing low fertility rates should focus on promoting public childcare rather than extending cash subsidies, members of the Childcare Policy Alliance said yesterday, calling for legal revisions to allow the establishment of public home daycare centers.
"Our goal should not only be raising fertility rates — female participation in the workforce should rise at the same time," alliance spokesman Wang Chao-ching (王兆慶) said, calling on the ministry to push for public childcare for small children.
The ministry established a special office earlier this month to formulate new policies to counteract low birthrates, with the aim of raising the fertility rate to 1.6 children per woman.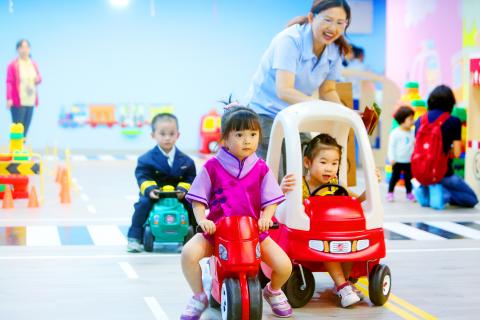 Children play on toy cars at a public childcare center that opened yesterday in New Taipei City. The childcare center, the city's 48th public childcare center, has a car-themed playroom where children can learn about traffic rules.
Photo courtesy of the New Taipei City's Social Welfare Department
While local governments offer cash incentives to encourage having children, many parents struggle to find affordable childcare options beyond grandparents, he said, calling for the ministry to establish a pilot program to provide subsidized public childcare to about 10 percent of small children.
The Protection of Children and Youths Welfare and Rights Act (兒童及少年福利與權益保障法) should also be amended to allow local governments to fund and manage small-scale "home care" centers, he said, adding that only public institutional care is provided.
"The problem with institutional care is that the number of children makes it easy for infections to spread, so you end up taking your child to the doctor all the time," he said, while adding that private home care centers have had difficulty winning back parents' trust following child abuse scandals.
Publicly subsidized home care centers could help fill the gap and caregivers would be required to pass a government selection process, he said, adding that the government could make quality care more affordable by paying higher salaries to caregivers.
Meanwhile, Minister of Health and Welfare Chen Shih-chung (陳時中) was yesterday criticized for failing to specify the new office's strategic direction during a question-and-answer session at a meeting of the Legislative Yuan's Social Welfare and Environmental Hygiene Committee.
He said the ministry would convene a meeting of experts and is considering conducting an online poll to collect opinions from young people.
Comments will be moderated. Keep comments relevant to the article. Remarks containing abusive and obscene language, personal attacks of any kind or promotion will be removed and the user banned. Final decision will be at the discretion of the Taipei Times.