LIFT program unveiled
TALENT DRAW: The Ministry of Science and Technology said that many people in the high-tech industry want to return, but worry about Taiwan's working environment
The Ministry of Science and Technology on Tuesday announced a new program — Leaders in Future Trends (LIFT) — to attract overseas Taiwanese technology talent to return home.
When Minister of Science and Technology Chen Liang-gee (陳良基) took the helm at the ministry in February, he launched a program to send doctorate graduates specializing in technology-related fields to Silicon Valley in California for short-term training at high-tech corporations or start-ups.
The new program, which is to be officially launched next month, is to give 100 Republic of China passport holders under 45 years old with a doctorate from an overseas university a chance to return to Taiwan on a professional exchange that comes with a government grant of NT$1.5 million (US$49,000) for up to one year.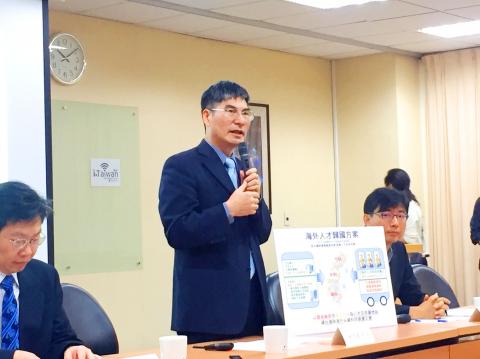 Minister of Science and Technology Chen Liang-gee presents the Leaders in Future Trends program in Taipei on Tuesday.
Photo: Wu Po-wei, Taipei Times
"A large proportion of these people want to return to Taiwan," Chen said, citing a survey of overseas professionals showing that approximately 60 percent would like to work in their home nation, but some worry about uncertainties in the work environment.
Many industries in Taiwan need such people, especially innovative technology professionals, Chen said. The program can serve as a "talent train" to bring them back.
The program would help arrange accommodation in the three major science-based industrial parks, provide participants with an allowance of NT$125,000 per month for up to a year and offer bilingual elementary or high-school education for their children, he said.
Participants would be required to attend at least 10 professional exchange events, including consultations, lectures, forums, innovative business model consultations, advanced technology advisory consultations, and other activities at corporations or research institutes.
Chen said the allowance is so that participants would not have to worry too much about living needs and accommodation, allowing them to focus on sharing their professional experiences in academia and research.
The funding would stop once the participant finds work, he said.
According to the survey, 22 of 40 companies polled have a need for overseas technology talent and among them have listed at least 379 job openings.
Comments will be moderated. Keep comments relevant to the article. Remarks containing abusive and obscene language, personal attacks of any kind or promotion will be removed and the user banned. Final decision will be at the discretion of the Taipei Times.