Zazazoo leverages uniform business
Demand for school uniforms kept Tainan-based Chung Mei Uniforms Co busy for six decades, but as a third-generation owner of the family business, Tsai Chia-lin (蔡佳霖) recognizes the need to diversify.
Changing social realities, such as fewer children and fewer schools with mandatory uniform policies, have made it difficult for uniform makers to stay in business, she said.
Her start-up, Zazazoo, which makes wearable accessories for dogs, is an attempt to adapt the local textile industry to modern times, Tsai said.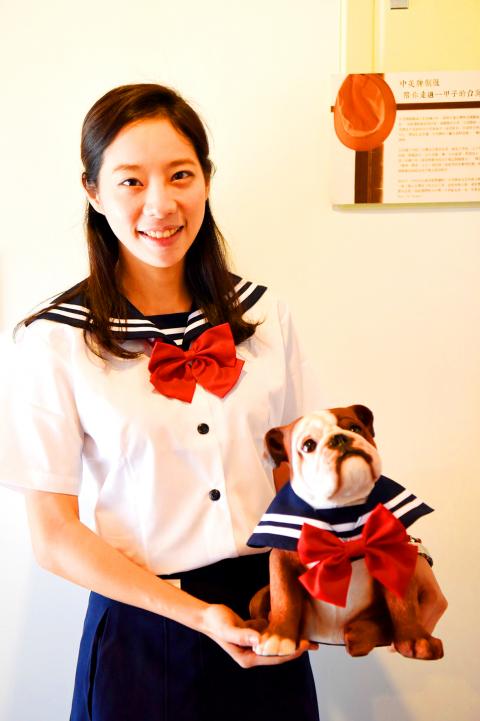 Businesswoman Tsai Chia-lin poses in an undated photograph in a Chung Mei Uniforms Co school uniform as she holds a display of a similar outfit for dogs made by Zazazoo.
Photo: CNA, courtesy of Tsai Chia-lin
She said she launched Zazazoo with personal savings and subsidies from the Ministry of Education for business start-ups by young people.
When she was a student at National Chengchi University, she took classes to help develop her sales and marketing skills.
Forming links between Zazazoo and Chung Mei Uniforms has been an important component of her business strategy, both in terms of building a brand name on social media platforms and sharing production capabilities at the Chung Mei Uniforms plant, she said.
The name Zazazoo was inspired by the noise of sewing machines she heard as a child, Tsai said.
Weaving stories into marketing messages on social media is a crucial tactic for new businesses in the creative sector, because most businesses like hers do not have funds for advertising, she said.
Sharing photographs of dogs wearing her company's products on Facebook has been a cost-effective way to promote the brand without paying for ads, she said.
The designs for her pet accessories incorporate classic Taiwanese school uniforms, including one made out of checkered material, and a bow that was inspired by National Taiwan Chia-chi Senior High School uniforms, which were voted the nation's most popular school uniform by netizens.
The family business has been of great help to her start-up and the durability of the materials used in uniforms makes the accessories she produces comfortable for dogs to wear and easy for their owners to clean, she said.
Tsai said she had to learn how to sew for her business, while maintaining a skilled workforce amid a generational gap is difficult.
Having access to a stable supply of materials from Chung Mei Uniforms has been crucial, as a major stumbling block for many firms in the creative industry is finding consistent sources.
Zazazoo is developing its customer base through Internet marketing and collaborating with the Tainan City Government, which gave the firm space at its Blueprint cultural and creative park, she said.
With annual revenue of NT$1 million (US$32,626), her business has already reached one of her initial goals, giving her confidence about Zazazoo's future, Tsai said.
Comments will be moderated. Keep comments relevant to the article. Remarks containing abusive and obscene language, personal attacks of any kind or promotion will be removed and the user banned. Final decision will be at the discretion of the Taipei Times.