EPA minister says will not eat shark fin soup again
'CASUAL PROMISES': EPA Minister Lee Ying-yuan's attitude was 'cavalier' and did not amount to an apology, an environmentalist said
Environmental Protection Administration (EPA) Minister Lee Ying-yuan (李應元) yesterday promised not to eat shark fin soup again after he was seen eating the controversial delicacy at a banquet.
"When I arrived they were already on the table and I hesitated for a moment" before eating the soup, Lee said, asking reporters to "close the chapter" on the incident.
"We will hold ourselves to higher expectations and be more vigilant," he said.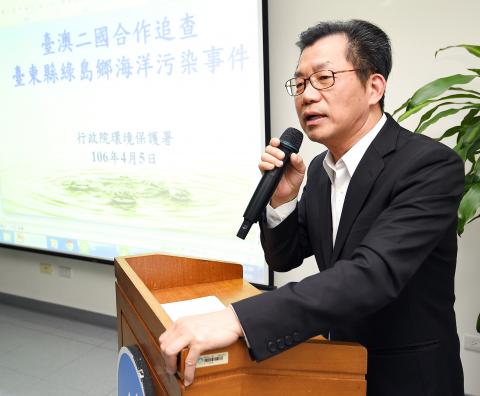 Environmental Protection Administration Minister Lee Ying-yuan addresses a news conference in Taipei on Wednesday last week.
Photo: Chen Chih-chu, Taipei Times
The incident was revealed after political analyst Tsai Han-shun (蔡漢勳) shared photographs from the banquet attended by Lee and other political and business figures where shark fin soup was served.
The delicacy is controversial because it is tied to shark finning, a practice in which fishermen cut the fins off sharks and then throw the animals back into the sea to die.
Taiwan Tree Protection Alliance founder Angela Chang (張美惠) criticized Lee's attendance at the banquet, saying she was "mystified" by his behavior.
"I do not eat shark fin or whitebait and try to buy locally produced food as much as possible out of environmental concerns, but here is our very own Environmental Protection Administration minister treating guests to shark fins," she said.
Lee yesterday said that he was neither the host nor the main guest at the banquet, and that he had arrived 20 minutes late.
He thanked environmental groups for their "friendly reminder," adding that neither he nor his family would eat shark fin and promised to give a "reminder" to friends if he saw shark fins served at banquets.
Chang criticized Lee's statements as "cavalier," and said he was making "casual promises."
"This does not even constitute an apology," she said, calling for Lee to ban the dish from EPA-hosted banquets.
Additional reporting by CNA
Comments will be moderated. Keep comments relevant to the article. Remarks containing abusive and obscene language, personal attacks of any kind or promotion will be removed and the user banned. Final decision will be at the discretion of the Taipei Times.