Police uniforms to focus on comfort, convenience
RUNNING: Some officers said their leather shoes have poor grip for chases, while cargo pants would be good and polo shirts should be used in summer
New police uniform designs are to focus on comfort and convenience, as well as reducing gender differences, Deputy Minister of the Interior Hua Ching-chun (花敬群) said yesterday after the National Police Agency initiated the first redesign in decades.
"We want officers' uniforms to be comfortable and convenient for their work," Hua said.
"As this issue was not thoroughly taken into consideration 30 years ago, that is what we will focus on this time around," he said.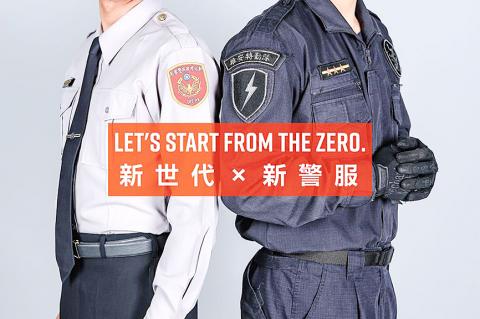 Two men model current police uniforms in an undated photograph used in a Facebook post that called for police officers' opinions on the design of new uniforms.
Photo: CNA, provided by the National Police Agency
The current uniform has been in place with only minor adjustments since 1988, when changes to reduce similarities to military uniforms were instituted shortly after the end of the Martial Law era.
The Legislative Yuan last year passed amendments to the Police Uniforms Act (警察服制條例), granting the ministry power to set uniform standards, with the aim of removing gender differences and deleting provisions that female officers wear skirts as part of their summer uniform.
The National Police Agency last week held meetings on the new standards, with a Facebook post by National Police Agency Director-General Chen Kuo-en (陳國恩) drawing more than 300 comments and more than 5,000 "likes."
"I hope that this time we can make the uniforms more similar to those of stormtroopers, because the current ones are extremely inconvenient for grappling with suspects and making arrests," said netizen Henry Chen (陳永仁), who identified himself as a police officer.
Formal leather shoes that police wear have poor grip, making it easy to slip and get injured during a chase, Chen said.
Netizen Yao Hsien-yang (楊曜先), also a police officer, recommended that police be allowed to wear polo shirts during the summer and called for the elimination of formal dress pants and jackets in favor of cargo pants.
The Chinese-language China Times reported that an internal police survey found that 37 percent of officers favored getting rid of the ties as part of official uniforms, while 24 percent favored keeping them.
The National Police Agency is to collect opinions over the next month before consulting with design professionals and holding a nationwide vote on design finalists.
Hua said that there is no timeline for deciding the final design.
Additional reporting by Chiu Chun-fu and Wu Jen-chieh
Comments will be moderated. Keep comments relevant to the article. Remarks containing abusive and obscene language, personal attacks of any kind or promotion will be removed and the user banned. Final decision will be at the discretion of the Taipei Times.