City-level exchanges key to diplomatic plight: Ko
The governments "new southbound policy" should be based on city-level exchanges if Taiwan is to find a way out of its diplomatic plight, Taipei Mayor Ko Wen-je (柯文哲) said in New Delhi yesterday before concluding his weeklong trip to Malaysia, Thailand and India.
Ko, who is to return to Taiwan today, talked about what he learned from the trip during a visit to the India Gate in New Delhi yesterday.
Due to Chinese pressure, central government officials in the nations he had visited had been reluctant to meet him publicly, Ko said.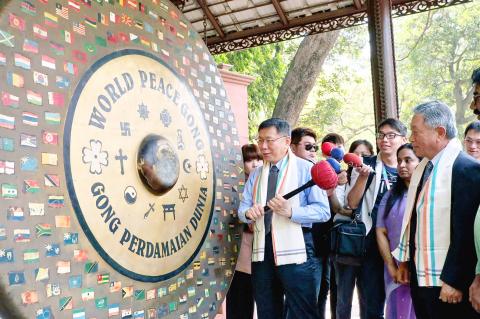 Taipei Mayor Ko Wen-je on Thursday prepares to strike the World Peace Gong at the Mahatma Gandhi Memorial Museum in New Delhi.
Photo: CNA
Taipei's signing of a memorandum of understanding to promote exchanges on transportation, "smart" city developments and information and communication technology with Malaysia's Selangor state upset Kuala Lumpur, he said.
Ko said that the challenges facing the nation were strongly felt when visiting other nations.
"Once you go outside, you realize that Taiwanese diplomacy is nearly suffocating," he said.
In this situation, having robust industries is essential to promoting international exchanges, he added, citing Taiwan's world-leading information and communication technology sector as the reason Taipei was able to establish ties with Selangor, despite central government disapproval.
Ko said that during his visit to the Indian Institutes of Technology, he reached a sister school agreement with it and the University of Taipei.
Taiwan makes the world's best computers and consumer electronics hardware, while India produces the world's most advanced software, Ko said, adding that he hoped the opportunity for collaboration would attract top Indian talent to Taiwan.
Ko said Taiwanese businesspeople play a crucial role in diplomacy, and that he had been able to meet with some important officials because of well-connected Taiwanese business leaders in Malaysia, Thailand and India.
Ko said he was now planning to contact his "friends in China," to convey his belief that Beijing limiting Taiwan's international space would not help resolve issues between China and Taiwan, because Taiwan is a mature democracy that values freedom.
He said he would organize his thoughts before proposing a comprehensive argument to China.
Asked whether Beijing had tried to obstruct his delegation, Ko said: "Not repeatedly, but all times."
The mayor also underlined the role played by the tourism industry in promoting international exchanges.
Comparing Taiwan with Hong Kong, he said that while the nation has "better food, better scenery and better attractions" than Hong Kong, the territory's tourism sector far outperforms that of Taiwan.
Even excluding Chinese tourists, the yearly number of tourists to Hong Kong is more than 10 million, far exceeding Chinese visitor numbers to Taiwan, and this shows that the government needs to enhance policies to promote "soft power," he said.
Ko said that he would deliver his policy ideas in a report to the Presidential Office's New Southbound Policy Office.
Comments will be moderated. Keep comments relevant to the article. Remarks containing abusive and obscene language, personal attacks of any kind or promotion will be removed and the user banned. Final decision will be at the discretion of the Taipei Times.