Bureau touts halal restaurant strategy
MUSLIM MISSION: The Tourism Bureau is to invite a Malaysian master chef to the Taiwan pavilion at the MATTA Fair in Kuala Lumpur to promote halal eateries
The number of restaurants in Taiwan with halal certification — meaning they are recognized as serving food in compliance with Islamic dietary law — has reached 100, Tourism Bureau Director-General Chou Yung-hui (周永暉) said yesterday.
"We hope to see the number reach 200," Chou said, adding that Taiwan is striving to become more Muslim-friendly so as to attract Muslim visitors.
Chou made the remarks at a ceremony to grant halal certification to 28 restaurants — including 16 in hotels — which were issued by the bureau in collaboration with the Taipei-based Chinese Muslim Association.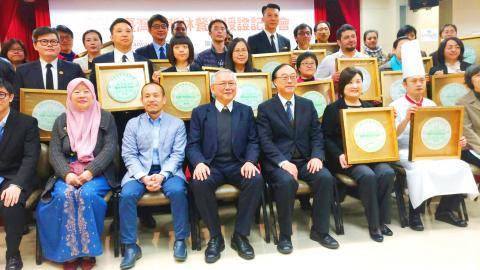 Restaurants owners at a news conference in Taipei yesterday hold certificates showing compliance with the Tourism Bureau's halal regulations.
Photo: CNA
That brought the number of restaurants nationwide that are certified halal to 104, meaning they do not serve pork or alcohol, which are some of the items not permissible according to Islamic law, the association said.
Chou said that statistics from MasterCard showed that Taiwan ranked 10th among overseas tourist destinations for Muslims last year and the ranking could rise to seventh this year.
This shows that the nation is making progress in attracting Muslims and more restaurants getting halal certification is a major indicator of this, Chou said.
To promote halal restaurants, the bureau is to invite Dato Fazley Yaakob, a master chef from Malaysia, to be a special guest at the Taiwan pavilion at the Malaysian Association of Tour & Travel Agents (MATTA) Fair, a major tourism industry event in Kuala Lumpur, which runs from Friday next week to Sunday.
Separately, the bureau is to issue a tourism booklet for Muslims in English, Malaysian and Indonesian languages next month to promote Taiwan as a Muslim-friendly nation.
Although foreign tourists broke the 10 million mark last year, there is ample room for growth in the number of Muslim visitors, the bureau said.
Visitors from Indonesia, which has the biggest Muslim population in the world, saw a decrease of 4,000 over the past two years after reaching 36,000 in 2014.
Visitors from Malaysia, which has a Muslim population of about 60 percent, reached a peak of 339,000 last year after a decrease of 17,000 in 2015.
Visitors from more affluent nations in the Middle East saw only modest growth.
Visitors from the United Arab Emirates doubled to 934 last year, while those from Saudi Arabia grew by 28 percent to 273 last year and those from Kuwait grew by 8 percent to 126.
Comments will be moderated. Keep comments relevant to the article. Remarks containing abusive and obscene language, personal attacks of any kind or promotion will be removed and the user banned. Final decision will be at the discretion of the Taipei Times.