Red quinoa might become a cash crop for Aborigines
A farm in Hualien County's Sioulin Township (秀林) saw nearly 100 visitors on Saturday last week as it began to harvest its crop of djulis, an increasingly popular grain that is said to have health benefits.
The ruby-colored djulis — also known as red quinoa — was once grown extensively in southern Taiwan by Aboriginal communities, but was largely replaced by other crops such as rice.
In the past few years, people have started regaining interest in djulis after it was discovered to be a good source of antioxidants and other health-promoting properties.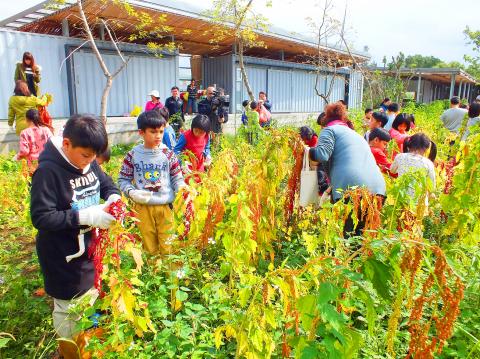 Aborigine children on Sunday visit a djulis farm in Hualien County's Jingmei Village.
Photo: Wang Chun-chi, Taipei Times
Proponents of the crop are hoping to market it as a revenue-generating product for Aboriginal communities.
In Pingtung and Taitung counties, small-scale farms are beginning to cultivate the crop.
The Sioulin Township office has been promoting the crop to the public.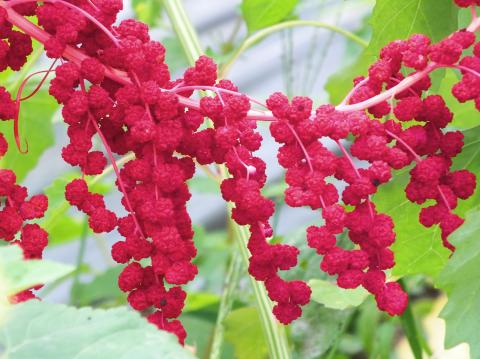 Djulis is pictured on Sunday in Hualien County's Sioulin Township.
Photo: Wang Chun-chi, Taipei Times
The office said it hopes to improve the quality and value of locally grown djulis, and has invited agricultural experts from Taitung to instruct Hualien farmers on growing and harvesting techniques.
A 990m3 djulis farm in the township's Qowgan (加灣) community — home to the Truku people — operates using ecologically friendly farming practices, Sioulin Mayor Lee Chun-feng (李春風) said.
Lee said he hopes more farms of the same type will be established throughout the township, adding there is the potential for the crop to become a local emerging industry.
There are plans to establish an agricultural advisory team, Lee said, adding that he hopes young people become more interested in agriculture.
At a county level, researchers are making an inventory of distinct traditional agricultural practices among the 33 Aboriginal communities of Hualien and Yilan, Lee said.
There are hopes that these communities could benefit from stable revenue-generating agricultural activities, which might include growing djulis, he said.
The Hualien District Agricultural Research and Extension Station said it supports the development and promotion of certified organic farms growing djulis, which it recognizes as a food product with many health benefits.
While there is not much farmland in Hualien devoted to growing the grain, there is the potential for the crop to gain the local farming industry more recognition and to boost the revenue of the county's Aboriginal communities, it said.
Comments will be moderated. Keep comments relevant to the article. Remarks containing abusive and obscene language, personal attacks of any kind or promotion will be removed and the user banned. Final decision will be at the discretion of the Taipei Times.