Groups march for women's day
ON THE WORLD STAGE: Taiwanese and expats rallied in Taipei to campaign for gender equality and voice their opposition to US President Donald Trump's administration
More than 100 people marched for gender equality in Taipei yesterday to commemorate International Women's Day.
The march, organized by Indivisible (Taiwan) — an affiliate of a US advocacy group resisting US President Donald Trump's administration — was a mix of expatriates and Taiwanese who marched from the National Chiang Kai-shek (蔣介石) Memorial Hall to Daan Park for an evening of speeches.
"After the Women's March on Washington in January, we heard stories from around the world: Myanmar, Japan … but nothing from Taiwan. I panicked and put out a call on Facebook," said Mary Goodwin, an English professor at National Taiwan Normal University who helped organize yesterday's march, adding that campaigners began planning for the event in January.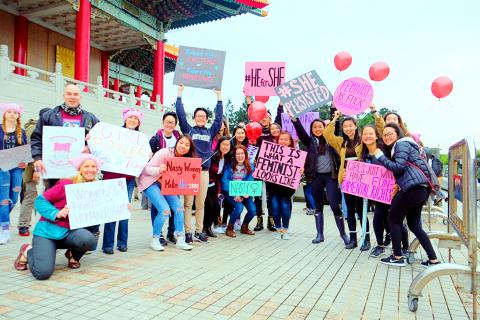 Participants in the Women's March Taiwan yesterday hold up placards in support of women's rights in Taipei's Liberty Square.
Photo: courtesy of Indivisible (Taiwan); Photographer: JJ Chen
After an initial demonstration in January to show support for the march in Washington, campaigners kept meeting and decided to join Indivisible, she said.
"We're here to show our support for women's issues worldwide, especially pay and gender equality," she said. "We're not petitioning the Taiwanese government for anything — we consider Taiwanese ahead of us [the US] in having a woman president."
"As an expat, I'm horrified by what's happening to my country [the US] under US President Donald Trump's administration, but there are not a lot of ways to be active and have one's voice heard. This is one of them so here I am," campaigner Jenna Cody said.
"This is for women's rights and the future of our daughters," said Maria Correia, a French-Portuguese woman who knitted many of the hats worn by campaigners.
"This is a great way to make Taiwan visible on the world stage, as well as letting Donald Trump know that opposition is a global movement, not just a domestic protest," a women named Liang I-ping said.
"I came because today is International Women's Day and it felt meaningful to participate," Democratic Progressive Party (DPP) Legislator Yu Mei-nu (尤美女) said, who was one of several legislators to speak at the march.
"The main reason I joined was that I hope people would pay more attention to sexual violence and blaming the victim, especially those directed at LGBT [lesbian, gay, bisexual, and transgender] people," said a transgender named Wu Hsin-en (吳馨恩), who wore blood-like makeup to protest domestic abuse.
"Normally, when gender movements talk about sexual violence, it is all about heterosexual women, while the only LGBT issue talked about is marriage equality," she said.
Comments will be moderated. Keep comments relevant to the article. Remarks containing abusive and obscene language, personal attacks of any kind or promotion will be removed and the user banned. Final decision will be at the discretion of the Taipei Times.