Taipei toy shop scrambles to satisfy demand for Lego
Toy store owner Chen Chu-hung (陳諸鴻) said his 264m2 store near Taipei Railway Station is barely able to keep up with the demand for Lego bricks, as the demand for the product has been surging in Taiwan.
His store used to stock only two to three boxes of Lego, but now he stocks 200 boxes, which are still insufficient to meet demand, said Chen, general manager of the DD Toy Town store on Taiyuan Road.
The store sells more than NT$10 million (US$324,729) of Lego products per year — with 4,000 boxes sold during the Lunar New Year holidays, Chen said, adding that sales have been so high that Lego's director-general visited his store from Denmark two years ago to ask him about his retail strategy.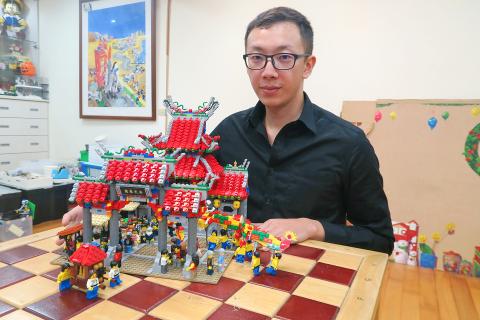 A lego enthusiast named Audi shows his Taiwanese temple creation, which won first prize in Taiwan's first Lego building competition in 2011, in Taipei on Jan. 27.
Photo: CNA
Chen attributed his success to his early entry into the Lego retail market, as well as his propensity to give customers discounts of up to 20 percent, which he said has drawn many to his store seeking bargains.
It is difficult to predict how much to stock, Chen said, adding that he refers to online Lego fan pages to see what is popular.
At times Lego is not able to fill larger orders, Chen said.
Lego collector Hu Cheng-ta (胡政達), who carries business cards made from Lego figures, said that DD Toy Town was selling Lego products before they were widely available elsewhere in Taiwan.
Collectors spend huge amounts of money at the store, Hu said, adding that he spent half of his income there from the time he began working until he was 35 years old.
Hu said he spent about NT$10 million on Lego products.
Hu said was he was a Lego World Cup building contest judge from 1996 to 1998 and that he often used his collection to encourage creativity among the students he teaches at a cram school.
He said he has conducted workshops for students who expressed interest in building using Lego, with the aim of boosting their creativity and hand-eye coordination.
One enthusiast, who goes by the pseudonym Audi (歐弟), said he has been building structures out of Lego bricks since he was 10, adding that it helps him deal with the stress of his studies.
Audi said that he works as a "MOCer" (My Own Creation) — a term given to people whose hobby is building with Lego bricks — adding that he began building his own designs when the plan in a Lego set he bought was too monotonous to build.
Audi won first place at Taiwan's first Lego building competition in 2011 with a Taiwanese temple celebration construction.
Audi said he is planning to build more creations using elements of Taiwanese and Chinese culture.
He showcases his creations at DD Toy Town.
Comments will be moderated. Keep comments relevant to the article. Remarks containing abusive and obscene language, personal attacks of any kind or promotion will be removed and the user banned. Final decision will be at the discretion of the Taipei Times.