Changhua vendor offers homeless free boxed meals
A street-side vendor in Changhua City, surnamed Huang (黃), has for the past week offered his business' boxed meals and soup to the city's homeless after hours free of charge, and also said that should people be in need, they can visit during business hours and ask for the "special."
The 43-year-old Huang, who declined to disclose his full name, said his stall usually operates from 9pm to 5am the next morning, and after two months, he discovered that there were many leftovers.
The leftovers should not be wasted, Huang said, adding that he has purchased a food warmer to keep the leftover boxes warm and fresh.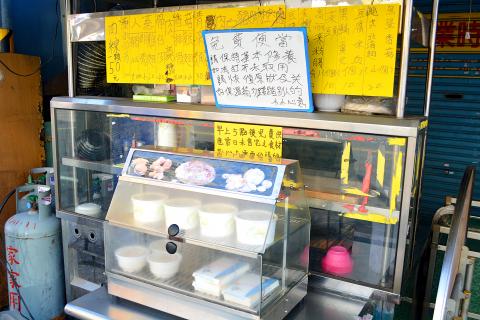 Free boxed meals sit in a warmer belonging to a vendor surnamed Huang in Changhua City yesterday.
Photo: Tang Shih-ming, Taipei Times
He has placed a plaque over the warmer stating that its contents are free, and said that he hopes those who take food would be courteous and close the warmer's doors to ensure that others might also enjoy a warm meal.
The plaque also specifies that the stall would provide free meals from the warmer after 5am.
People who were drawn to the stall over the past week said they found warm rice, braised pork and, if they were placed in a meal box, an egg.
The food varied every day, and the rice was kept warm in the steam cooker, they added.
Curious passers-by who peeked at the warmer's contents said the boxes could easily be sold for NT$40 to NT$50 at normal stores and praised Huang for his altruism.
Huang said that neighboring vendors have also taken to leaving things in his warmer, adding that he welcomes anyone who has a true need to partake in the free food.
If such people come to the stall during business hours, they only have to say they want a "free special," Huang said, adding that he would select food that had the greatest possibility of being left over for the free meal.
"It might not taste the best, but it will fill the belly," he said.
Comments will be moderated. Keep comments relevant to the article. Remarks containing abusive and obscene language, personal attacks of any kind or promotion will be removed and the user banned. Final decision will be at the discretion of the Taipei Times.