Foreign diplomats praise airport MRT line
BUSINESS LINKS: French and British transportation firms have connections to Taoyuan, including making systems used in the metro line and an aircraft facility
Setting off from Taipei Main Station, ambassadors and representatives of 23 nations yesterday took a trip on the Taiwan Taoyuan International Airport Mass Rapid Transit (MRT) line and sang its praises.
One group from the French Office in Taipei marveled at wireless chargers installed by carriage windows, which automatically charge passengers' compatible mobile devices placed on the platforms.
The metro line also provides passengers with free Wi-Fi connectivity, although issues of signal loss have to be resolved by resetting connection settings on devices.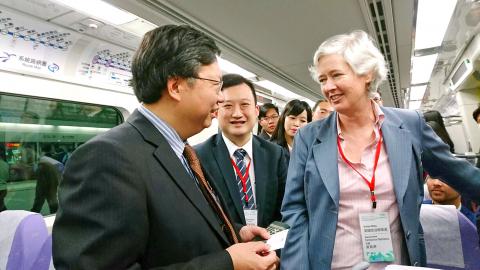 British Office Taipei Representative Catherine Nettleton, right, talks with Taoyuan Mayor Cheng Wen-tsan, left, during a trip on the Taiwan Taoyuan International Airport Mass Rapid Transit line yesterday.
Photo: Sean Lin, Taipei Times
"It is a very smooth trip," French Office in Taipei Director Benoit Guidee said.
"France works a lot with Taoyuan," he said, referring to the signing of a memorandum of understanding between partly French-invested aircraft manufacturer Airbus and the Taoyuan City Government on the establishment of an aircraft maintenance facility.
"We are very optimistic about the future of Taoyuan as the 'gate to the world,' especially to France and Europe," he added.
A number of French companies last year visited Taoyuan to explore business opportunities after Taoyuan Mayor Cheng Wen-tsan (鄭文燦) visited France to attend a technology conference, where he delivered a speech on President Tsai Ing-wen's (蔡英文) initiative to build an "Asian Silicon Valley" in Taoyuan, Guidee said.
Paris has set out plans to build a similar rail line to connect to its airports, and Taoyuan's experience constructing the airport MRT line could serve as a useful reference, Guidee said, adding that he would "definitely" use the line next time he travels out of Taiwan.
Taoyuan Metro Corp vice president Hsu Jun-jia (許浚嘉) said that the technology employed in the line's power and signal systems were built by foreign companies, while construction of the MRT system, including the stations and rails, was carried out by local firms.
British Office Taipei Representative Catherine Nettleton lauded the airport MRT line, calling it a "useful piece of infrastructure" for British travelers visiting Taiwan, as well as Taiwanese.
She said the ride was "very smooth," adding that construction quality "compares favorably" to metro systems in Britain.
Two British companies were involved in the construction of the MRT line: Siemens UK, which was responsible for the signals system, and Ricardo Rail, which conducted validity and verification for the system.
Rail building is an important industry in the UK, Nettleton said, adding that British firms have much to contribute to the future development of the Taoyuan MRT system.
Asked to rate the MRT line on a scale of one to 10 points, Guatemalan Ambassador to Taiwan Maria Aguja emphatically said "10," adding that she felt a "sense of security" during the ride.
"In the past, Taiwan had been synonymous with Taipei. Today, Taiwan is more than just Taipei," Cheng said at a luncheon after the trip.
The "capital circle" concept — encompassing Taipei, New Taipei City and Taoyuan — has become a reality with the launch of the airport MRT, which has brought the three municipalities closer than ever before and opened up new frontiers for investment and job opportunities, he added.
Comments will be moderated. Keep comments relevant to the article. Remarks containing abusive and obscene language, personal attacks of any kind or promotion will be removed and the user banned. Final decision will be at the discretion of the Taipei Times.