Wong Chi-huey declares innocence, appeals travel ban
The Shilin District Court yesterday held its first hearing on corruption and insider trading charges involving former Academia Sinica president Wong Chi-huey (翁啟惠), with Wong insisting he was innocent and asking the court to lift his travel restrictions.
Wong, OBI Pharma chairman Michael Chang (張念慈) and other company executives listed as defendants in the case have maintained that they did not engage in any illegal activities, such as unlawful transfer of shares and unduly benefiting family members, and asked the court to conduct an open, fair investigation to clear them of the charges.
Wong told the court that he did not agree with the charges in the indictment and that prosecutors have misunderstood him and the nature of his work.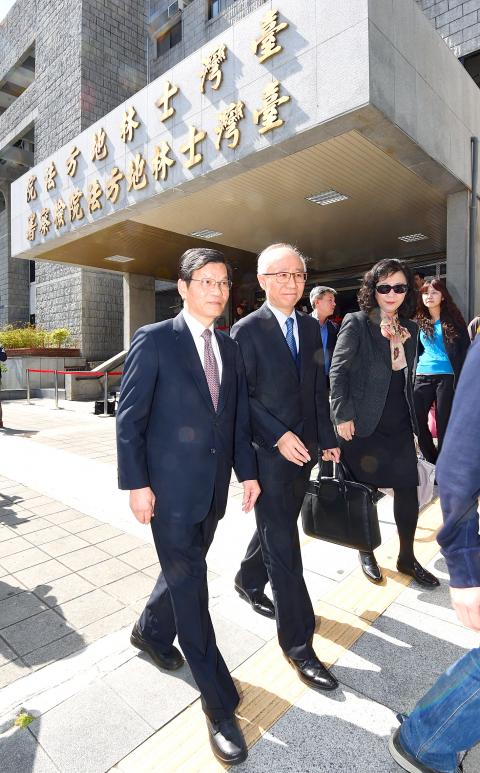 Former Academia Sinica president Wong Chi-huey, left, arrives at the Shilin District Court yesterday for the hearing on corruption charges against him.
Photo: Liu Hsin-de, Taipei Times
"I provided a lot of materials and evidence to investigators, but the prosecution still misinterpreted them, taking things out of context and making hasty decisions," he said.
"When I read the indictment, I was very disappointed and very angry. It is a blow to me and my family, and has harmed Academia Sinica," he said.
"I have worked in the US for more than 30 years, obtained US citizenship and purchased properties to settle there. I had good career prospects in the US, but I gave them up to return to Taiwan, because I wanted to use my scientific training to help Taiwan develop its biotechnology industry," Wong said.
"When I got here, I only wanted to dedicate all my efforts to the advancement of the biotechnology industry, and I have not forgotten this aspiration," he said. "I will not leave Taiwan and will stay here to defend myself and clear my name, because I am innocent."
Wong and Chang requested that the court lift restrictions barring them from travel abroad.
The court had imposed the travel ban on the request of prosecutors, who said that with their assets abroad, the two are a flight risk.
Addressing these concerns, Wong said: "My research is well-known internationally, and many people around the world know me. If I were to escape abroad, the authorities would issue an alert and list me as a wanted criminal. I would then have no place to go, so it is not possible for me to flee the country."
"I want to defend myself against the charges and to clear my name. For a well-known scientist like me, fleeing the country to avoid prosecution would amount to suicide," he said. "The travel restrictions means I cannot attend any international conferences. This has hindered the development of Taiwan's scientific research, and it has caused harm to myself and the nation."
Wong broke down and wept when his lawyer told the court that "Wong has always shown his love for Taiwan. I have never encountered someone who wants to uphold his clean reputation more than his life. Each time we talked about the case, Wong always spoke about his long-term vision to develop Taiwan's biotechnology industry."
A prominent biochemist and research scientist with numerous academic awards to his name, Wong earned his doctorate from the Massachusetts Institute of Technology and is considered a leading expert in carbohydrate chemistry research.
He returned to Taiwan to help develop the nascent biotechnology industry after being appointed head of Academia Sinica in October 2007. He has led efforts to develop cancer vaccine technologies since 2008 and later began collaborating with Chang, whom he met in the US.
Comments will be moderated. Keep comments relevant to the article. Remarks containing abusive and obscene language, personal attacks of any kind or promotion will be removed and the user banned. Final decision will be at the discretion of the Taipei Times.