Protesters blast 'green hand' labor minister
'HIRED THUG': Workers' unions accused the minister of being soft on management and invited her to attend their classes on labor causes to help her resolve disputes
The Ministry of Labor should take a pro-active role in resolving several prominent labor disputes, rights advocates said yesterday, accusing Minister of Labor Lin Mei-chu (林美珠) of failing to take a stronger stand in protecting workers.
More than a dozen protesters affiliated with the TransAsia Airways Union, the Taiwan Railway Union and the Former Freeway Toll Collectors Self-Help Organization gathered outside the ministry in Taipei, shouting that they would give the "green hand" (菜) lessons on their respective causes.
"Green hand" is a homonym of the family name of President Tsai Ing-wen (蔡英文), who is Lin's cousin.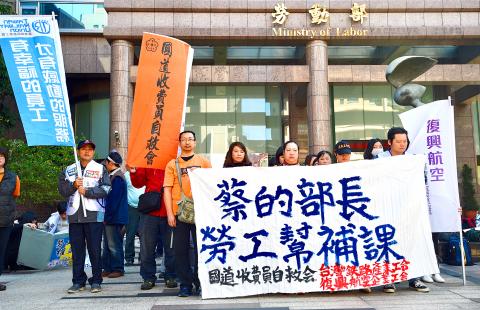 Members of several labor groups hold up signs at a protest outside the Ministry of Labor in Taipei, calling on Minister of Labor Lin Mei-chu to attend their classes on workers' rights.
Photo: Peter Lo, Taipei Times
"We are here because we know that Lin is a career bureaucrat ... who is not familiar with labor disputes," Workers Struggle Alliance member Kuo Kuan-chun (郭冠均) said.
"Our hope is that she will not just be the administration's hired thug, pushing forward its policies," Kuo added.
The protesters performed a "classroom" skit, with some wearing masks representing Lin, Tsai and Deputy Minister of Labor Kuo Kuo-wen (郭國文).
They said the government had ignored its promises to toll workers and railway workers, while shielding TransAsia Airways through the ministry's inaction.
"On all these issues, what we have seen is that the Ministry of Labor does not have its own stand, and has instead taken the side of employers," Workers Struggle Alliance member Mao Chen-fei (毛振飛) said.
Mao criticized Lin for saying she respects the stand of the Ministry of Transportation and Communications in the controversy over railway union workers taking a protest "holiday" over the Lunar New Year.
"I want to ask the minister what law says that a bankrupt company can wait until after the accounts are settled before paying salaries owed to workers," TransAsia Airways Union director Wu Chung-hua (吳崇華) said.
While the labor ministry has issued assurances that the airline has set aside funds for workers, payment has been stalled with no clear timetable for negotiations and resolution, Wu said.
The labor ministry reiterated that it would assist in arranging negotiations between TransAsia Airways and the union, while noting that the Taiwan Railway Union workers' case has already entered independent arbitration.
Funds have already been put aside to pay all toll workers claims, it said, adding that meeting the self-help organization's demands that payment be denied to non-members of the group would go against society's expectations.
Comments will be moderated. Keep comments relevant to the article. Remarks containing abusive and obscene language, personal attacks of any kind or promotion will be removed and the user banned. Final decision will be at the discretion of the Taipei Times.