Workers demand compensation
LOST IN TRANSLATION: A government Web site that publishes information on foreign workers who want to change employers is in Chinese, a campaigner said
More than 100 Indonesian workers yesterday protested outside New Taipei City Hall, demanding that their contracts be extended and compensation be paid for agency fees and lost work time.
"These workers paid the equivalent of three years of agency fees, but will be sent back after working only one-and-a-half to two years," said Chen Hsiu-lien (陳秀蓮), a Taiwan International Workers' Association member who led the demonstration.
The workers in 2013 signed three-year contracts with Hwang Chang General Contractor, but received no salaries until more than a year-and-half later when they were hired for construction projects, such as an athletes' village in New Taipei City's Linkou District (林口) for this year's Summer Universiade, she said, adding that agency fees for job placement came to more than NT$110,000 (US$3,461), about five months' salary.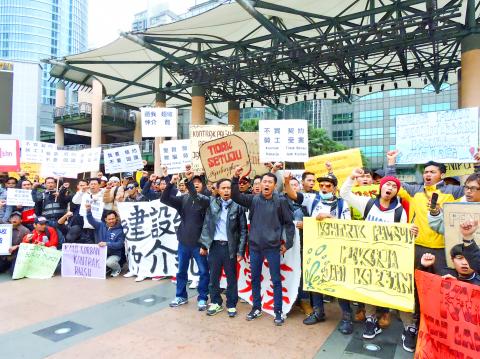 Indonesian workers protest outside New Taipei City Hall yesterday, demanding contract extensions and compensation for agency fees and lost work time.
Photo: Lai Hsiao-tung, Taipei Times
The workers are faced with the possibility of paying agency fees for a second time because of the construction company's unwillingness to directly rehire them, she said.
Amendments made last year to the Employment Service Act (就業服務法) allow foreign workers to renew their contracts or transfer to a new employer after working for three years without having to return to their home nation.
However, foreign workers have had difficulty using the right to change employers because of language barriers and a lack of government support, Chen said.
"The government Web site that publishes information about foreign workers seeking to switch employers is in Chinese, so they cannot verify if they have been put on the Web site by their employers," she said.
"Even if their employer has completed the paperwork, they are in effect in the hands of agencies, because they do not have time to look for work, and they do not know where and how to find employers," she added.
She called on the government to provide incentives to employers who hire or rehire foreign workers who are already in Taiwan.
Comments will be moderated. Keep comments relevant to the article. Remarks containing abusive and obscene language, personal attacks of any kind or promotion will be removed and the user banned. Final decision will be at the discretion of the Taipei Times.