'Squirrel Bridge' helps to balance nature, development
The construction of a small bridge for squirrels crossing a creek in Shueici Village (水?) in Hsinchu County's predominantly Hakka Beipu Township (北埔) has drawn the attention and praise of animal rights advocates.
The Council of Agriculture's Soil and Water Conservation Bureau erected the bridge after village representatives said that it was needed to allow squirrels to safely cross the creek.
The "Squirrel Bridge" is made of bamboo and can only support the weight of small animals, the Shueici Village Office said, adding that barriers at both ends and a large sign warn people to stay off it.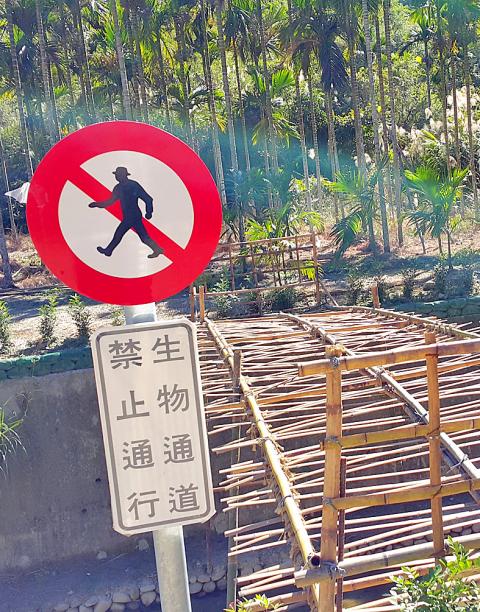 A sign warns people against using a bamboo squirrel bridge in Shueici Village in Hsinchu County's Beipu Township on Dec. 29.
Photo: Tsai Meng-shang, Taipei Times
Squirrel Bridge was part of a larger project to control the creek, which also included a larger concrete bridge and barriers to prevent landslides in parts of the creek's bank, Village Warden Lin Chen-lung (林辰隆) said.
Visitors have asked if the small bamboo bridge is part of an art installation or a recreation of a bridge from the past, Lin said, adding that concerns that people would step onto the small bridge and cause it to collapse led the bureau to return and install the sign.
"The area around both banks of the creek is natural and undeveloped, attracting many birds and squirrels," he said.
The removal of trees, which squirrels had used to jump across, during work on the creek made the bridge necessary, Lin said, adding that birds also use the bridge as a perch at night.
In the past, large construction projects would not take animal conservation into consideration, one local resident said.
"Squirrel Bridge will allow wildlife near the creek to continue to thrive," the resident said. "You can already see squirrels playing on it and using it to rest."
"It looks like it is working well," he added.
Comments will be moderated. Keep comments relevant to the article. Remarks containing abusive and obscene language, personal attacks of any kind or promotion will be removed and the user banned. Final decision will be at the discretion of the Taipei Times.