Tsai, Hernandez reaffirm nations' relationship ties
President Tsai Ing-wen (蔡英文) and Honduran President Juan Orlando Hernandez have reaffirmed the ties between the two nations and promised to take the bilateral relationship into a new era.
In Honduras, at the start of a four-country tour of Central American, Tsai on Monday said that her visit to Honduras and Hernandez's trip to Taiwan in October last year represent an "important watershed in our relationship."
"It will develop further from existing friendly diplomatic ties to a steadfast relationship focused on trade and economy that will be mutually beneficial," Tsai said at a joint news conference following talks between the two leaders and several ministers.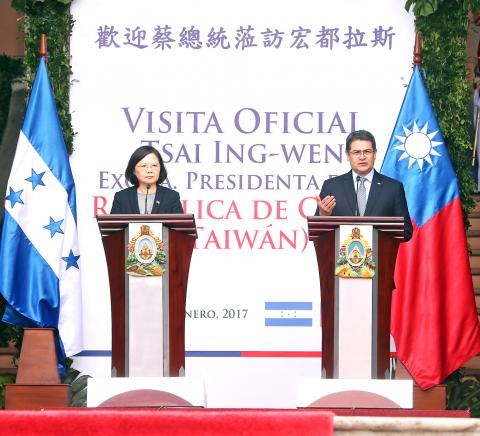 President Tsai Ing-wen, left, and Honduran President Juan Orlando Hernandez hold a joint news conference after an official meeting at the Honduran Presidential Palace in Tegucigalpa on Monday.
Photo: CNA
"Steadfast" has become a catchword used by the Tsai administration to describe the type of relationship it wants to maintain with Taiwan's allies. In Chinese, the term also means "matter-of-fact" and "pragmatic."
Also speaking at the news conference, Hernandez said bilateral ties are set to enter a new phase, in which "a focus on trade" would benefit Taiwanese as well as Hondurans.
He called Tsai "the most respected, the favorite daughter of Honduras."
Leaders discussed cooperation in agriculture, tourism, textiles, agricultural product processing, as well as assistance Taiwan could provide Honduras to develop micro businesses, Hernandez said.
Five highly competitive products, including potatoes, avocados and coffee, could be exported to Taiwan in the near future, he said.
Tsai said that Hernandez was the first foreign leader to congratulate her after she won the presidential election on Jan. 16 last year.
On the first stop of her four-nation tour of Central America, Tsai said she was deeply impressed with the resilience, prosperity and vitality demonstrated by Hondurans under Hernandez's leadership.
The two sides have agreed on expanding an existing scholarship program to bring more Honduran students to Taiwan and promoting Taiwanese investment in Honduras, she said.
Earlier in the day, Tsai visited the Basilica de Suyapa, a Catholic church in Tegucigalpa, accompanied by the Honduran president's mother, Elvira Alvarado, and his sister, Hilda Rosario Hernandez Alvarado.
Comments will be moderated. Keep comments relevant to the article. Remarks containing abusive and obscene language, personal attacks of any kind or promotion will be removed and the user banned. Final decision will be at the discretion of the Taipei Times.