Chunghwa Post to switch bikes for electric scooters
State-run Chunghwa Post said that it will rent 1,000 electric scooters for its delivery workers, to replace the company's fleet of Yelang motorcycles, in response to the government's efforts to promote "green" energy.
The company said it plans to phase out its entire fleet of 9,000 gasoline-powered motorcycles within seven years. It is estimated that the change could dramatically reduce carbon dioxide emissions.
Chunghwa Post spokesperson Wang Shu-ming (王淑敏) said the electric scooters are well-suited to urban areas where travel distance sare short and repair and maintenance issues are easily handled, adding that the company will rent the scooters on a trial basis, starting in cities.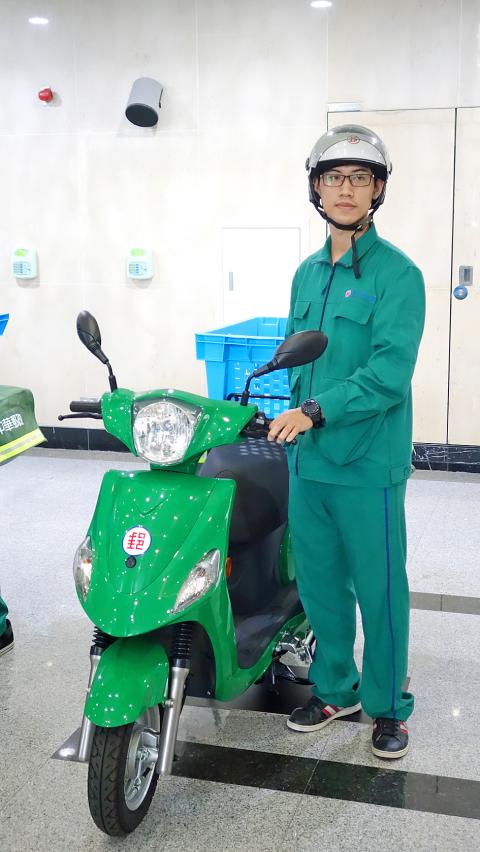 A postman demonstrates one of the new electric scooters that Chunghwa Post is introducing in order to significantly reduce CO2 emissions at a news conference in Taipei yesterday. The company plans to phase out its entire fleet of 9,000 gasoline-powered motorcycles within seven years.
Photo: Cheng Wei-chi, Taipei Times
The company will use scooters with greater torque and higher-capacity batteries to avoid issues for workers, Wang said.
The scooters are to be equipped with cargo boxes capable of holding 80kg to meet standard requirements, Wang said, adding that the vehicles will also be equipped with GPS to update drivers on road conditions and detours.
The company plans to purchase the scooters next year if trials go well, Wang said.
The cost of renting an electric scooter is NT$3,300 per month, Wang said, adding that insurance and maintenance costs are included.
This will save NT$10,000 per year for each petrol-powered motorcycle replaced, Wang said.
"We will work with the manufacturer to increase our usage of electric vehicles and eventually switch our four-wheeled vehicles to electric-powered alternatives," Wang said.
One mail carrier who declined to be named expressed a less optimistic outlook about the new electric scooters.
"Motorcycles have lots of torque, whereas scooters might struggle with steep hills or heavy loads. They also have low bottoms that scrape the ground on steep surfaces," the carrier said, adding that a full assessment would have to wait until the scooters are put into use.
Comments will be moderated. Keep comments relevant to the article. Remarks containing abusive and obscene language, personal attacks of any kind or promotion will be removed and the user banned. Final decision will be at the discretion of the Taipei Times.