School band innovates to join music competition
A percussion band at Hualien's Huaren Junior High School joined a nationwide competition last month wearing improvised "dress shoes" made out of plastic bags, earning plaudits for their dedication and perseverance.
The 16-member band was invited to attend a nationwide music competition, which normally requires formal wear.
However, the school could not afford to pay for dress shoes for the students, school principal Liang Chung-chi (梁仲志) said on Thursday.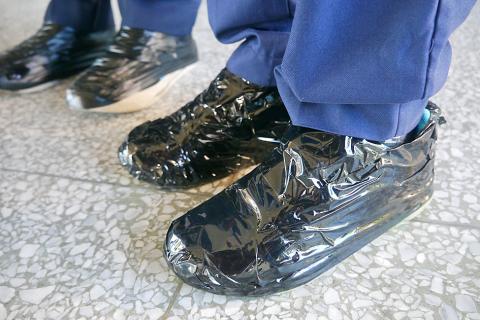 Members of a percussion band from Hualien's Huaren Junior High School use black plastic bags to cover their sneakers during a music competition in Hualien last month.
Photo: Wang Chun-chi, Taipei Times
Determined to join the competition, the students improvised by using black plastic bags to cover their sneakers, Liang said.
Liang said he and other teachers were moved to tears when the students consoled him, saying they were excited just to be able to attend the competition.
The school lies on the edge of Hualien City near Jian Township (吉安), Liang said, adding that many of its students come from low-income rural families.
The school operates on a very tight budget, making it difficult to assist with such expenses, he said.
"Having no funds does not mean kids cannot have opportunities," he said.
More than half of the students lack confidence in their studies because of their family's economic situation, Liang said, but added that many are quite talented in the arts and in sports.
Participating in the percussion band has helped the students regain their confidence, with their passion for music emboldening some to borrow instruments from a neighboring school and even taking the stage with poor-fitting uniforms, Liang said.
"They found sweetness in hardship," he said.
Band leader Lin Fu-hsiang (林富祥) said that not having leather shoes was not a problem, because the band's only concern was performing well.
However, band members still need their own instruments so they can practice properly, Lin said.
"I hope they can hear themselves practice, instead of imagining the sounds of their instruments as they hammer away on pillows," he said
Band member Chang Wei-chen (張瑋宸) said that although covering his sneakers with plastic bags was inconvenient, it was not a major concern.
He said his father even praised him for the creative solution.
"What we need now is instruments so we do not always need to run around looking for places to practice," Chang said.
Liang said the school plans to apply to non-governmental organizations for assistance to raise the NT$800,000 (US$25,000) needed to purchase instruments for the band.
"I hope the kids can realize their dreams," Liang said.
Comments will be moderated. Keep comments relevant to the article. Remarks containing abusive and obscene language, personal attacks of any kind or promotion will be removed and the user banned. Final decision will be at the discretion of the Taipei Times.