No consensus on TransAsia talks
TransAsia Airways Corp and its former employees yesterday failed to reach an agreement on the size of the severance package the airline should pay its former staff.
With the Taipei Department of Labor presiding, the airline held a meeting — the fifth since it filed for bankruptcy in November — with former workers at Taipei City Hall.
Prior to the meeting, the TransAsia Airways Union held a news conference in front of the city hall, saying it would accept a recommendation made by the department at the previous meeting, with each of about 1,800 laid-off workers receiving 1.5 months of salary and NT$100,000 in administration fees.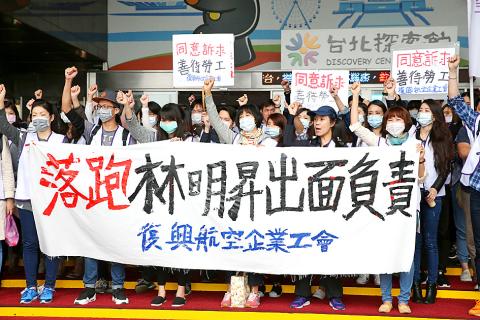 Members of the TransAsia Airways Union hold a news conference in front of the Taipei City Hall yesterday prior to holding a fifth round of talks with executives from the airline.
Photo: CNA
The statement represented a concession by the union, which turned down the suggestion during the previous negotiation.
However, after nearly four hours of closed-door talks, TransAsia executives said they would not accept the union's offer.
Union consultant Liu Rung-ro (劉容柔) said the airline refused to accept any terms other than those set forth in the Act for Worker Protection of Mass Redundancy (大量解僱勞工保護法), under which the airline is required to pay severance packages equivalent to 30, 40 or 50 times its former employees' daily wages, depending on an employee's seniority.
Scuffles broke out when Liu told union members that the airline plans to fire its chief executive officer, Liu Tung-ming (劉東明), the representative in charge of negotiating with the union, during a shareholders' meeting on Wednesday, which would close the door on bilateral talks.
About 100 union members attempted to storm the meeting room, but were pushed back by police officers.
Department of Labor Commissioner Lai Hsiang-ling (賴香伶) gave instructions to telephone TransAsia chairman Vincent Lin (林明昇), who later agreed to "exchange opinions" with union representatives, but ruled out further negotiations.
Union director-general Wu Chung-hua (吳崇華) said the airline has since September stopped depositing funds for employees' pensions into their accounts, adding that this contravened the law.
By accepting the department's suggestion on the severance fees, the union's stance is aligned with that of the government, he said, urging TransAsia to demonstrate sincerity in its negotiations with the union.
The labor department said it had reported TransAsia's failure to forward pension payments to the Bureau of Labor Insurance.
Starting today, the airline would be punished by being made to pay its former workers an additional 3 percent of the sum it owed every day until the total reaches twice the amount of pension it should have allocated, it said.
Comments will be moderated. Keep comments relevant to the article. Remarks containing abusive and obscene language, personal attacks of any kind or promotion will be removed and the user banned. Final decision will be at the discretion of the Taipei Times.