Virtual anatomy tool gives students closer look inside
CLEAN AND GREEN: The new technology offers students the opportunity to examine anatomy without the use of cadavers, meaning that less preservation materials are used
Taiwan has imported its first Anatomage Table, a virtual library of human cadavers used by medical students to learn anatomy and diagnostics.
The table, made in the US, offers medical students a chance to do virtual dissections on digital images of actual cadavers, young and old, on a life-sized touch screen.
I-Shou University's School of Chinese Medicine associate professor Jou Ming-Jia (周明加) said the table offers 360? rotation of images, high-resolution magnification from 0.4mm to 0.1mm, as well as a clear view of the nervous system and blood vessels that are otherwise hard to observe.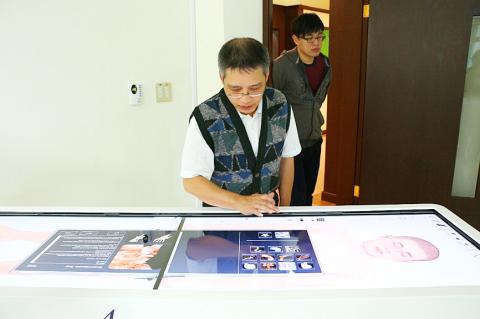 A man studies an image displayed on an Anatomage Table at I-Shou University in an undated picture.
Photo provided by I-Shou University
The device makes it easier for students to understand the structure of the human body, Jou said.
As opposed to operating on a cadaver, the table allows students to repeat operations and also eliminates the need for a cadaver, ventilation and preservation equipment, management personnel, and storage, Jou said, adding that this makes the table more environmentally friendly.
Assistant anatomy professor Liao Chih-kai (廖智凱) said that first and second-year students use the table to develop a basic knowledge, and the table is used in clinical education for third and fourth-year students who also use cadavers.
Lessons on the nervous system or blood vessels now offer a closer look at details with the introduction of the table, a second-year student said.
"I feel that the table helps encourage students to engage with the subject," he said.
Comments will be moderated. Keep comments relevant to the article. Remarks containing abusive and obscene language, personal attacks of any kind or promotion will be removed and the user banned. Final decision will be at the discretion of the Taipei Times.