Children's rights report released
GATHERING: An international conference was held in Taipei to raise awareness of the UN Convention on the Rights of the Child, which Taiwan adopted two years ago
The Ministry of Health and Welfare on Thursday published the nation's first report on children's rights in tandem with the beginning of a two-day conference in Taipei on a UN convention that seeks to offer special care and assistance to children.
The report lists and explains the measures the nation has taken to recognize children's rights and the progress made on their implementation in accordance with the UN Convention on the Rights of the Child, which Taiwan adopted two years ago.
The report over eight chapters covers the general principles of the convention — civil rights and freedoms; family environment and alternative care; basic health and welfare; education, leisure and cultural activities; and special protection measures.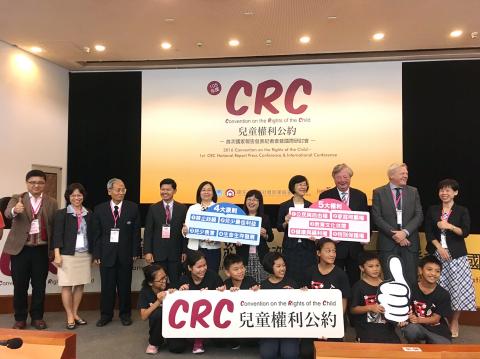 Deputy Minister of Health and Welfare Lu Pau-ching, second row, fifth right, accompanied by officials, guests and children, poses for a photograph at a news conference in Taipei on Thursday.
Photo: Lin Yen-tung, Taipei Times
It was complied with the help of government agencies, experts, academics and civic groups after 33 meetings, and was drafted last year, the ministry said.
A panel of five international children's rights experts would be formed to review the report and publish its conclusions next year, which the government would take into consideration to further enhance the protection of children's rights, the ministry said.
The timing of the report's release is in line with the terms of the Implementation Act of the Convention on the Rights of the Child (兒童權利公約施行法), which was introduced in November 2014.
The conference was held to raise awareness of the UN convention and discussed the protection of children's rights in several nations, the issues mentioned in national reports and reviews by the UN Committee on the Rights of the Child, and other matters relating to child rights.
Deputy Minister of Health and Welfare Lu Pau-ching (呂寶靜), who is also executive secretary of the Cabinet's Welfare and Rights of Children and Youth Promoting Group, addressed the conference at the Civil Service Development Institute in Taipei and spoke about the ministry's report.
Other speeches and discussions at the conference focused on challenges in the protection of children's rights in Taiwan.
Among the speakers at the conference were Dutch academic Jaap E. Doek, who served as chairperson of the UN committee from 2001 to 2007; Sanphasit Koompraphant, founder of the Center for the Protection of Children's Rights in Thailand; Trond Waage, academic and a former ombudsman for Children of Norway; and Meas Samnang, secretary-general of the Coalition on the Rights of the Child in Cambodia.
Comments will be moderated. Keep comments relevant to the article. Remarks containing abusive and obscene language, personal attacks of any kind or promotion will be removed and the user banned. Final decision will be at the discretion of the Taipei Times.