Groups to broaden same-sex marriage discussion
KIN: A Social Democratic Party lawyer said he supports equal marriage rights after he had to make medical arrangements for his wife when she was injured overseas
Married couples yesterday called for same-sex marriage legislation at a Legislative Yuan news conference, as same-sex marriage supporters broaden communication with society as they lobby for passage of a bill.
"Even though same-sex marriage legislation has been referred to the legislative committee for a review, we still see many people opposing same-sex marriage in the name of protecting families, but there are a lot of parents who hold different views," said Taiwan Tongzhi Hotline Association research associate Lu Hsin-chieh (呂欣潔), who hosted yesterday's news conference.
Lu also announced plans to film online commercials in favor of same-sex marriage featuring heterosexual couples.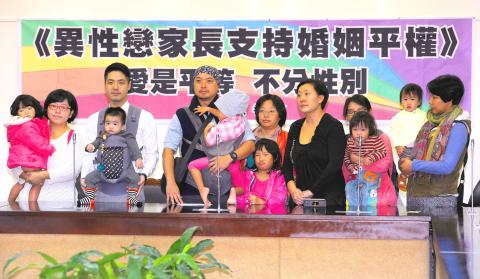 Married couples yesterday call on the government to legalize same-sex marriage at a news conference at the Legislative Yuan in Taipei.
Photo: CNA
"We hope to use more stories and experiences to communicate with society. Not with the group of people who are strongly opposed to same-sex marriage, but with those in the middle who may not understand homosexual issues," she said, while adding that none of yesterday's group of parents wore masks over their mouths to hide their identity, unlike most of the parents and children who rallied against same-sex marriage outside the Legislative Yuan in Taipei on Tuesday.
About 30 parents and children gathered for yesterday's news conference, which was attended primarily by members of a preschool parenting cooperative along with several rights advocates, with parents citing sympathy for homosexual couples and concerns for their own children as reasons to support same-sex marriage.
Chen Yu-hsin (陳又新), a lawyer affiliated with the Social Democratic Party, said that when his wife was in an accident while abroad it made him appreciate the legal rights marriage offers, as he was able to arrange her return to Taiwan and subsequent surgery as her next of kin.
"In all of the different stages, I had to give my identity as her spouse before I could help her arrange all of these different matters," he said, adding that same-sex couples should have the same authority.
Economic Democracy Union spokesman Hsu Po-jen (許博任) said same-sex marriage is important to ensure the rights of his two young children should they be gay.
"We hope that our children will not experience any pressure related to their sexual orientation as they grow up," he said. "If they are homosexual, we also hope they will have all the rights necessary to grow old together with those they love."
Parent-child Mutual Education Promotion Association executive secretary Chen Mei-yi (陳玫儀) said members of the preschool parenting cooperative had purposefully taken their children to participate in the nation's annual gay pride parade last month.
"I don't want my children to just learn reading and arithmetic, I want them to learn to care for society and those around them," she said, adding that even potential exposure to obscene imagery at the parade represented an opportunity to educate.
"There is no way to keep children in a completely protected environment, but you can tell them about different choices, potential risks and their responsibilities," she said.
Comments will be moderated. Keep comments relevant to the article. Remarks containing abusive and obscene language, personal attacks of any kind or promotion will be removed and the user banned. Final decision will be at the discretion of the Taipei Times.