Measures needed to help stranded migrant workers
More systematic government measures are needed to help migrant workers who are stranded in Taiwan due to sickness and financial hardship, Chinese Nationalist Party (KMT) Legislator Apollo Chen (陳學聖) told a news conference in Taipei on Wednesday.
Chen gave the example the case of an Indonesian caregiver, named Sina, who was paralyzed in 2014 because of a spinal condition and has been unable to return home.
Chen said Sina arrived in Taiwan in March 2014, but fell sick during a disease outbreak that left her paralyzed and dependent on a ventilator.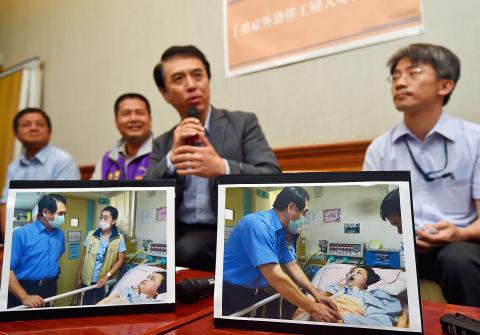 Chinese Nationalist Party (KMT) Legislator Apollo Chen, center, urges the government at a news conference in Taipei on Wednesday to provide better care for migrant workers in Taiwan.
Photo: Chien Jung-fong, Taipei Times
Although she has expressed a wish to return home, her family in Indonesia does not have enough money to cover her transportation, the lawmaker said.
Although about 600,000 immigrant workers live in Taiwan, the government has made no provisions to help workers like Sina, who are unable to go home as a result of financial hardships caused by sickness or injury, Chen said.
Non-governmental charity organizations, individuals and labor agencies are the only sources of assistance for the workers, Chen said.
"Sina's resident visa will expire in March next year, and her fitness to travel, ability to pay for the expenses and access to healthcare after returning home are worrisome," Chen said.
Healthcare and travel costs for sick migrant workers have been a problem since the government began allowing foreign workers into the nation 20 years ago, and labor agencies usually rely on trade associations to cover the costs, Taoyuan City Employment Services Trade Association chairman Huang Kao-chieh (黃杲傑) said.
In addition, several hospitals are paying "tens of thousands of [New Taiwan] dollars" per month out of their pockets to treat uninsured migrant workers or those whose conditions are not covered by insurance, Huang said.
"We do not regard this as a normal situation for a functional system," he said.
New Taipei City Employment Services Trade Association chairman Kuan Wen-chieh (官文傑) said that his organization estimates that the cost for Sina's plane fare and in-flight medical care would be about NT$300,000, and is in the process of raising US$10,000 for her medical care in Indonesia.
However, doctors have not cleared her for travel, Kuan said.
Huang Chao-hsiang (黃紹祥) of the National Immigration Agency said the agency would extend Sina's residency in Taiwan if she could provide medical documents showing that she cannot travel due to health reasons.
Workforce Development Agency Senior Executive Officer Hou Sung-ting (侯松廷) said the Ministry of Labor offers financial aid packages for migrant workers who fall ill during their employment in Taiwan.
Since "an aid application for this case has been recorded on file," the Workforce Development Agency has contacted Indonesia's representative office in connection with Sina's needs, Hou said, adding that migrant workers who require assistance can reach the agency via its 1955 hotline.
Huang Kao-chieh said the touted aid packages are too meager to be of help.
He said he asked the Ministry of Labor once for help, but it denied his request, and his company ended up paying NT$550,000 to send the sick worker home.
"There are no channels or mechanisms to help patients or business owners," he said.
Comments will be moderated. Keep comments relevant to the article. Remarks containing abusive and obscene language, personal attacks of any kind or promotion will be removed and the user banned. Final decision will be at the discretion of the Taipei Times.