'Gold' mailbox a curiosity
A "golden" mailbox in front of New Taipei City's Jinguashi (金瓜石) Post Office has become a tourist attraction, including for foreign tourists who travel around the northeastern coastal area, post office officials said.
The post office is inside New Taipei City's Gold Museum, which exhibits relics from Taiwan's prosperous gold mining past.
The mailbox has a replica of a gold bar on top, but it is not gold-plated, and the postbox is shaped like a gold-mining cart and sits on railway tracks, in honor of the regions mining history.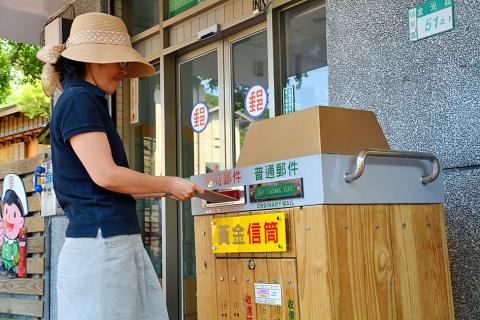 A woman posts mail in the Jinguashih Post Office Gold Museum mailbox in New Taipei City's Rueifang District on Aug. 27.
Photo: CNA
Lin Chun-ya (林純雅), head of the museum's promotion division, said that more foreign tourists, including backpackers from Europe, are taking photographs in front of the golden mailbox.
South Korean tourists have become frequent visitors as well, Lin added.
Lin said that the golden mailbox is a unique attraction and has boosted the post office and museum's visibility by encouraging tourists to visit the region.
A Hong Kong visitor, surnamed Chan, was attracted to the area by the golden mailbox, he said as he took selfies with the postbox and uploaded the photographs to Facebook.
Many foreign visitors take taxis to Jinguashi and its neighboring town Jiufen (九份), meaning some taxi drivers serve as tour guides and show visitors to the Gold Museum, Lin said.
"It is no surprise that the golden mailbox is on tourists' lists of places to visit," Lin added.
The Jinguashi Post Office is open everyday from 10am to 4pm during the summer tourist season, it said, adding that visitors are able to buy postcards and stamps from the post office.
"By mailing postcards in a unique postbox, visitors are more likely to remember their trip to Jinguashi," Lin said.
Although the post office is in New Taipei City, it is supervised by the Keelung Post Office.
The Keelung Post Office said that after the Gold Museum opened in 2004, it launched two sets of special edition stamp collections featuring the museum and the mountainous region as part of its efforts to boost tourism in the area.
In 2005, the Jinguashi Post Office started to use a postmark featuring the mountainous range in the area and a special gold postage stamp.
The move sparked a wave of stamp collecting in Taiwan, the post office said.
To celebrate the 120th anniversary of Chunghwa Post, the Jinguashi Post Office has been handing out free postcards to visitors.
Comments will be moderated. Keep comments relevant to the article. Remarks containing abusive and obscene language, personal attacks of any kind or promotion will be removed and the user banned. Final decision will be at the discretion of the Taipei Times.