Police uncover drug smuggling operation
COOPERATION: Japanese police found 50kg of amphetamines with an estimated street value of NT$1.07 billion in 25 hollow metal cylinders in a shipment from Taiwan
Investigators yesterday announced that they had uncovered an international smuggling operation that attempted to ship illegal drugs from Taiwan to Japan and recovered 50kg of amphetamines with an estimated street value of NT$1.07 billion (US$34 million) hidden inside a container.
Officials of the National Police Agency's Criminal Investigation Bureau detailed the operation, which they attributed to successful cooperation between law enforcement agencies in Taiwan and Japan.
Police detained a key suspect, 40-year-old Lin Ching-hung (林境鴻), who investigators said was involved in scrap metal salvaging and trading.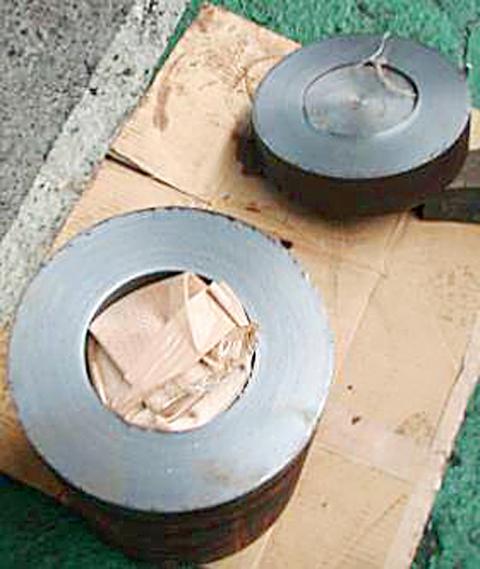 A metal cylinder containing bags of amphetamine is displayed in an undated police handout photo.
Photo: Copy by Chiu Chun-fu, Taipei Times
Police said Lin linked up with international drug smugglers, who were reportedly connected to organized criminal syndicates, and planned to ship illegal drugs from Taiwan to Japan via container ship.
Bureau officials said such drug smuggling operations are highly profitable for organized crime, as 1kg of amphetamines can be sold for about NT$200,000 in Taiwan, while the same amount would fetch more than 20 times that price in Japan.
Authorities from both nations collaborated on surveillance, with bureau officers tracking a shipment of scrap metal from Lin that departed from the Port of Keelung on Aug. 21 and arrived in Yokohama, Japan, three days later, the bureau said.
Japanese police searched Lin's container and found 2kg pouches of amphetamines concealed inside 25 hollow metal cylinders, it added.
Lin was not aware of the search conducted by Japanese police, and was under surveillance when he boarded a flight to Japan last month with an accomplice surnamed Yeh (葉) to collect the shipment, the bureau said.
According to bureau officials, following two days of surveillance Japanese police arrested Lin and Yeh in connection with the 50kg of smuggled amphetamines, which they estimated were worth about NT$1.07 billion.
When questioned, Lin said he was unaware of the drugs, adding that he received the rods as scrap metal from Yeh, who promised to pay him for shipping the cargo to Japan.
Yeh told police that he bought the rods for NT$3 million, but did not know their origin.
Taiwanese and Japanese authorities said the investigation is ongoing to identify the operation's ringleaders and the source of the illegal drugs.
Comments will be moderated. Keep comments relevant to the article. Remarks containing abusive and obscene language, personal attacks of any kind or promotion will be removed and the user banned. Final decision will be at the discretion of the Taipei Times.