Keelung helping homeless through sales of magazines
The Keelung City Government recently started a project to help homeless people regain their self-confidence by giving them work and putting them in contact with the community, with the ultimate aim of restoring their abilities to lead self-sufficient lives.
The Keelung Department of Social Affairs last month began employing three homeless people to sell copies of the Big Issue magazine at locations frequented by commuters. A total of 359 copies of the magazine were sold, equivalent to NT$6,000 per person in earnings.
Department Director Wu Ting-feng (吳挺鋒) said the magazine is a monthly publication that is only sold through cooperation with the homeless, adding that sellers earn NT$50 for each issue sold.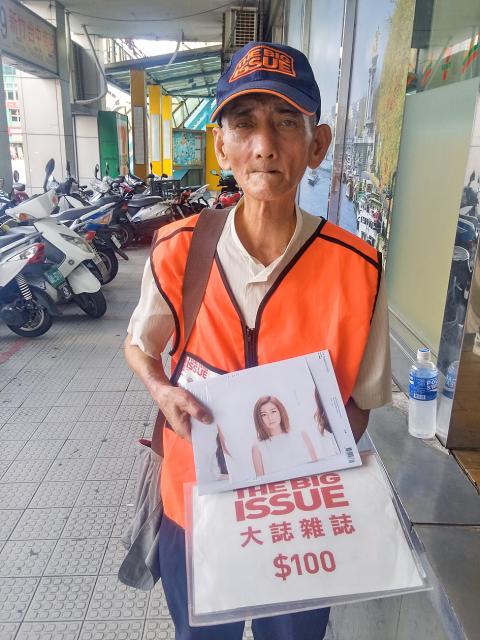 A homeless man sells the Big Issue magazines in Keelung on Sunday.
Photo: Lin Hsin-han, Taipei Times
Keelung is the 10th city in the nation to sell the publication, organizers said, adding that they were skeptical at first about the local market, but the results so far show that their skepticism was ill-founded.
One 65-year-old homeless man who goes by the pseudonym "Stone" said he has experienced many difficulties in life, starting with jail time for drug use when he was younger and an industrial accident in which he lost both thumbs while performing penal labor.
After a car accident five years ago shattered his pelvis, requiring replacement with an artificial one, Stone said he lost his will to live and began walking the streets.
However, after he started selling the Big Issue last month, Stone said that he found his confidence restored, especially after he sold 22 issues in a single day, adding that many passersby wave to him, even when they are not buying, letting him feel the warmth of society.
"Even if business is bad, I want to be out here," Stone said.
One department staffer, surnamed Lin (林), said: "Stone is so positive, he even goes out at night to sell magazines."
Stone said he has to make a great amount of effort, because his physical condition puts him at a disadvantage compared with others.
He added that he is happy to have this chance to start over, and that he would use his abilities to make a future for himself.
"Giving a person fish to eat and giving them a rod to fish for themselves are both equally important," Wu said, adding that before homeless people can return to their families and their regular lives, they need support in the form of food, clothing and shower facilities.
Wu said the department would continue with similar support plans and hopes to see many homeless people regain their sense of self-confidence and return to self-sufficient lives.
Comments will be moderated. Keep comments relevant to the article. Remarks containing abusive and obscene language, personal attacks of any kind or promotion will be removed and the user banned. Final decision will be at the discretion of the Taipei Times.