TRA unveils Tobu Railway SPACIA Express in Taipei
TOURIST ATTRACTION: The train colors — gold, black and red — represent three Shinto shrines in Tochigi Prefecture that are designated a World Heritage Site
The Taiwan Railways Administration (TRA) has turned one of its express trains into a Tobu Railway SPACIA Express train, which is to serve passengers for the next six months.
The gold-colored train, which was unveiled to the public at Nangang Railway Station in Taipei yesterday, is the result of the agency's partnership with the Tokyo-based railway operator.
Tobu Railway had one of its express trains repainted in the style of the TRA's Puyuma Express train. That engine was unveiled in Japan in June. The TRA has reciprocated by having one of its express trains turned into a SPACIA Express.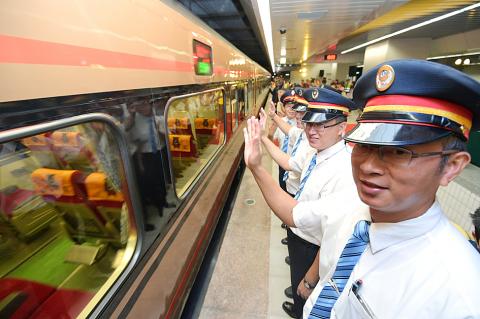 Taiwan Railways Administration employees yesterday wave during an unveiling ceremony on the platform at Nangang Station in Taipei for a gold-painted Tsu Chiang-class express train, decorated to replicate the SPACIA Express tourist train operated by Japan's Tobu Railway.
Photo: Chang Chia-ming, Taipei Times
SPACIA Express trains are colored gold, black and red, as the colors represent three Shinto shrines in Nikko, Tochigi Prefecture, that are designated a UNESCO World Heritage Site.
The shrines — Nikko Toshogu, Futarasan Jinja and Rinno-Ji — are frequently visited by tourists traveling from Tokyo by train.
The ceremony to celebrate the pilot run of the train was overseen by TRA director-general Jason Lu (鹿潔身) and Tobu Railway owner Yoshizumi Nezu.
Lu said that the companies launched a ticket-exchange program after they signed a cooperation agreement in December last year in which TRA passengers can exchange a Tzechiang Express ticket that costs more than NT$150 for a Tobu Railway ticket from Asakusa District to the Tokyo Sky Tee when they visit Japan. They can also buy discount tickets from Asakusa to Nikko or Ashikaga, he said.
In exchange, Japanese travelers can get a one-day pass for the Pingsi Branch Line if they have a Tobu Railway express train ticket, he said.
Lu announced yesterday that the TRA had expanded the offer for Japanese visitors, allowing them to exchange a Tobu Railway express train ticket for a one-day pass for either the Pingsi or Jiji branch lines.
The offer expires at the end of next year, he added.
The TRA said that the SPACIA Express train would operate between Keelung's Cidu (七堵) and Pingtung (屏東) today, before running on different routes on the network for the next six months.
Comments will be moderated. Keep comments relevant to the article. Remarks containing abusive and obscene language, personal attacks of any kind or promotion will be removed and the user banned. Final decision will be at the discretion of the Taipei Times.