Tsai meets Honduran president after military review
President Tsai Ing-wen (蔡英文) yesterday met with Honduran President Juan Orlando Hernandez at the Presidential Office, telling him that she hoped his nation would support Taiwan's participation at international organizations with concrete measures.
Hernandez arrived in Taiwan on Saturday for a four-day state visit.
He was formally greeted by Tsai and Vice President Chen Chien-jen (陳建仁) with a military honor guard and review at Liberty Square in front of the Chiang Kai-shek Memorial Hall before the Presidential Office meeting.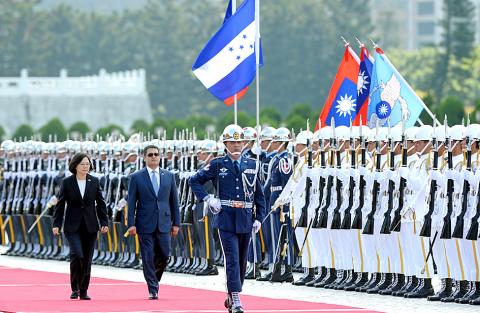 President Tsai Ing-wen, left, and Honduran President Juan Orlando Hernandez, second left, review a military honor guard during a ceremony at Liberty Plaza in front of the Chiang Kai-shek Memorial Hall in Taipei.
Photo: Lin Cheng-Gun, Taipei Times
"Both Taiwan and Honduras have the same goal, which is to go global. To further the nation's diplomacy, we not only aim to strengthen our ties with other countries, but have also tabled the 'new southbound policy,'" Tsai said in a speech at the office.
The friendship between the Republic of China and Honduras has lasted 75 years, Tsai said as she expressed gratitude to the Central American nation's continued support for Taiwan's participation at UN-affiliated organizations, such as the International Civil Aviation Organization (ICAO), the UN Framework Convention on Climate Change (UNFCCC) and the World Health Assembly (WHA).
"We hope that Honduras will continue to speak up for Taiwan in the international arena and support our participation at various global organizations through concrete actions," she said.
Her remarks come after Taiwan was not invited to this year's ICAO assembly in Montreal, Canada, or granted access to side events at the UN Climate Change Conference (COP22) in Marrakesh, Morocco, scheduled for next month, reportedly all due to Beijing's intervention.
China's Taiwan Affairs Office recently attributed Taiwan's global predicament to the Tsai administration's undermining of the political foundation to cross-strait ties by refusing to acknowledge the so-called "1992 consensus."
The "1992 consensus" refers to a supposed tacit understanding between the Chinese Nationalist Party (KMT) and Beijing that both sides of the Taiwan Strait acknowledge there is "one China," with each side having its own interpretation of what "China" means. Former Mainland Affairs Council chairman Su Chi (蘇起) said in 2006 that he had made up the term in 2000.
Tsai and Hernandez signed a 19-item joint statement during their meeting aimed at deepening the cooperation between the Taiwanese and the Honduran governments, as well as their people.
The two leaders also issued a statement in which they said they agreed to the promotion of human rights, rule of law and democracy, while recognizing the significance of combating climate change and the important role played by dialogue in ensuring international peace and security.
In addition, Hernandez reiterated his government's support of Taiwan's bid to participate in the UNFCCC, the ICAO and the WHA, as well as Tsai's policy of "steadfast diplomacy" that aims at expanding Taipei's international space and allowing it to help address emerging global issues.
Comments will be moderated. Keep comments relevant to the article. Remarks containing abusive and obscene language, personal attacks of any kind or promotion will be removed and the user banned. Final decision will be at the discretion of the Taipei Times.