Hung defends pan-blues' China trip
DOUBLE STANDARDS? The KMT chairwoman said many pan-green local government heads had also visited China, but had not been accused of trying to divide the nation
Chinese Nationalist Party (KMT) Chairwoman Hung Hsiu-chu (洪秀柱) yesterday accused the administration of President Tsai Ing-wen (蔡英文) of applying double standards in its criticism of eight pan-blue local government heads' recent visit to Beijing, saying the trip was made to promote public livelihoods.
At a meeting of the KMT's Central Standing Committee in Taipei yesterday afternoon, Hung said both sides of the Taiwan Strait had positive exchanges under the KMT administration's eight-year rule thanks to the party's handling of cross-strait ties, which brought significant tourism growth.
However, "since the Democratic Progressive Party [DPP] administration took office, its disregard of cross-strait policies has led to suspended communications across the Strait and a sharp drop in the number of Chinese visiting Taiwan, which have gravely affected all sectors of Taiwanese society," Hung said.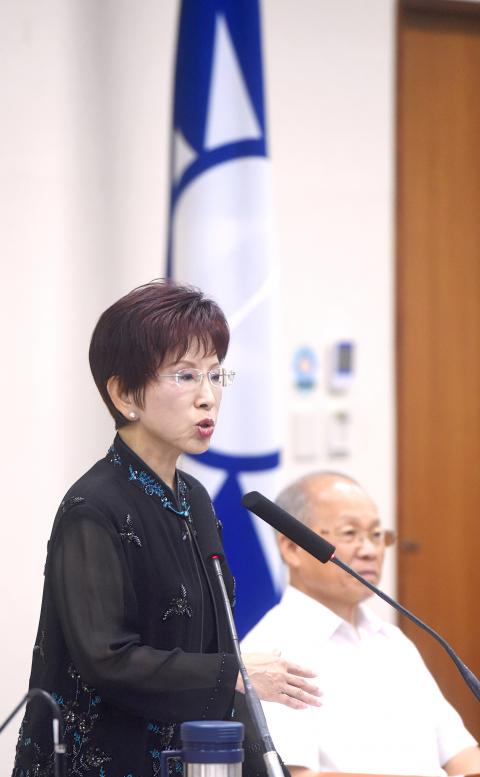 Chinese Nationalist Party (KMT) Chairwoman Hung Hsiu-chu accuses the government of interference in the party's disposition of its assets at a Central Standing Committee meeting yesterday at KMT headquarters in Taipei.
Photo: Chien Jung-fong, Taipei Times
The DPP government appears to be indifferent and has turned a blind eye to the impact on local industries, she added.
The trip to China by a delegation of eight KMT and independent local government heads earlier this week was aimed at helping public livelihoods, but was interpreted as a move that could further divide the nation, she said.
"I do not understand the logic and rationale behind such allegations. Many pan-green local government heads had also visited Beijing in the past. How come their trips are not seen as seeking to divide Taiwan, while ours are?" Hung said.
Cross-strait ties play a significant role in government policy, which is why the eight local government leaders made the trip, she said, lauding the eight for their proactive spirit and endeavors to help solve the nation's problems.
Hung urged Tsai to honor a pledge she made during her inauguration in May to build a better country for the younger generation.
"This country is the Republic of China [ROC,] so please act in accordance with the ROC Constitution instead of doing something unspeakable under its flag," she said.
Hung said Tsai's insistence on steering the nation toward independence and eliminating legally founded political parties or industries that might put her at a disadvantage would eventually backfire.
At a news conference at KMT headquarters earlier yesterday, KMT Culture and Communications Committee deputy director Hu Wen-chi (胡文琦) said the Tsai administration should not pin pro-China labels on the eight local government heads who only wanted to help the nation's economy.
Hu added that the KMT welcomed any policies tabled by the Tsai administration that is better than the so-called "1992 consensus" in terms of solving problems.
The "1992 consensus" — a term former Mainland Affairs Council chairman Su Chi (蘇起) admitted that he made up in 2000 — refers to a supposed understanding reached during cross-strait talks in 1992 that both Taiwan and China acknowledge that there is "one China," with each side having its own interpretation of what "China" means.
Comments will be moderated. Keep comments relevant to the article. Remarks containing abusive and obscene language, personal attacks of any kind or promotion will be removed and the user banned. Final decision will be at the discretion of the Taipei Times.