TRTC debuts goods retrieval machines
An online shopping platform is cooperating with Taipei Rapid Transit Corp (TRTC) to give commuters a new way to pick up their online purchases, including frozen foods.
TRTC has partnered with online shopping platform Catch Power to place retrieval units in MRT stations, from which shoppers can pick up their items.
The machines, which went online on Thursday, can store normal, refrigerated and frozen goods, a Catch Power spokesperson said, adding that the units are the first of their kind in the world.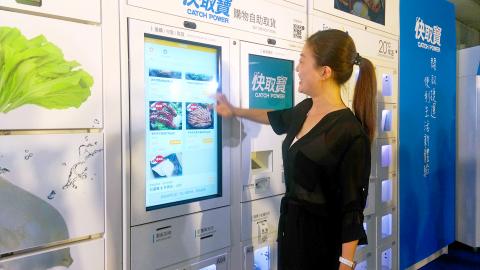 A woman uses a Catch Power merchandise retrieval machine at an MRT station in Taipei on Thursday.
Photo provided by Taipei Rapid Transit Corp
"Online shopping is the direction things are headed in. These self-service retrieval units make the process even more convenient and help reduce carbon emissions" by removing the need for delivery vehicles, a TRTC spokesperson said, adding that the units are remotely monitored to ensure their security.
TRTC said machines have been deployed at the Daan, Fuxinggang, Nanjing Fuxing, Neihu, Sanchong, Shilin, Taipei Arena, Xingtian Temple and Zhongshan MRT stations, as well as nine others, with plans to eventually place units in all of the rail system's 108 stations.
The TRTC spokesperson said merchants send products to stations designated by shoppers at the time of purchase and provide them with a password to open a locker in the units to retrieve their purchases.
"As the temperature of each locker can be independently controlled, even seafood can be stored and kept fresh," the Catch Power spokesperson said, adding that the company aims to help transform Taipei into a "smart" city.
"The MRT is already one of the most important modes of transportation for people in Taipei and New Taipei City, allowing them to drastically cut their commutes. With these smart retrieval units, people will also be able to enjoy shopping while commuting," the Catch Power spokesperson said. "It is a world first for a transportation network."
Comments will be moderated. Keep comments relevant to the article. Remarks containing abusive and obscene language, personal attacks of any kind or promotion will be removed and the user banned. Final decision will be at the discretion of the Taipei Times.