Ex-officials said to use legal loophole to travel to China
A Democratic Progressive Party (DPP) legislator yesterday accused 58 former ministerial officials and local government heads of taking advantage of a legal loophole to circumvent a ban on traveling to China.
According to the Act Governing Relations Between the People of the Taiwan Area and the Mainland Area (臺灣地區與大陸地區人民關係條例), former political appointees and local government heads who plan to travel to China within three years of leaving office are required to obtain prior approval from the agencies in which they served, DPP Legislator Lee Chun-yi (李俊俋) wrote on Facebook yesterday.
However, the act contains a provisory clause that allows discretion in shortening or extending the restriction period, based on the nature of the role the applicants were involved in, he said.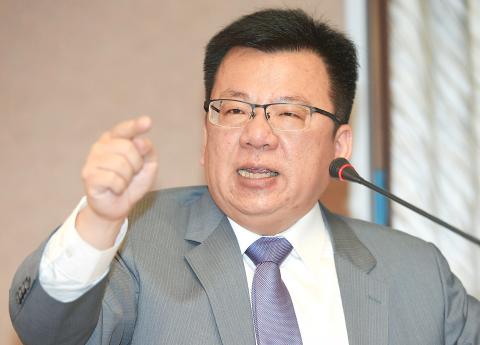 Democratic Progressive Party Legislator Lee Chun-yi makes a remark on June 16 in Taipei.
Photo: Chang Chia-ming, Taipei Times
Many officials from the former administration of President Ma Ying-jeou (馬英九) and Chinese Nationalist Party (KMT) former local government heads have abused the clause to shorten the period in which they are forbidden from traveling to China, Lee said.
Those Lee named include former Taichung mayor Jason Hu (胡志強), former Taipei mayor Hau Lung-bin (郝龍斌), former culture minister Hung Meng-chi (洪孟啟) and former National Palace Museum director Feng Ming-chu (馮明珠).
Hu approved his own application before leaving office, Lee said.
Feng, who became an adviser to the Palace Museum in Beijing just three months after leaving office, might also have violated a "revolving door" ban on former government officials, he said.
Lee urged the Mainland Affairs Council to investigate the former officials and said he would continue to pursue the issue when the legislature begins a new session later this month.
In response, Feng said that her restriction period was shortened from three years to three months because "it does not involve classified information," while her appointment at the Palace Museum in Beijing is an honorary one for which she is not paid a salary.
Comments will be moderated. Keep comments relevant to the article. Remarks containing abusive and obscene language, personal attacks of any kind or promotion will be removed and the user banned. Final decision will be at the discretion of the Taipei Times.