Two coral species listed as protected
ENDANGERED: One species, comprising 300 individual colonies, is distributed in a limited area of coast between Kaohsiung's National Sun Yat-sen University and Takao Hill
In the nation's first designation of corals as protected species under the Wildlife Conservation Act (野生動物保育法), two rare species endemic to Taiwan are to be recognized as endangered.
The two shallow-water species, Polycyanthus chiashanensis and Pseudosiderastrea formosa, are to be designated as class-one endangered species — the highest of the nation's three wildlife protection categories — with the official recognition to be announced in one week at the earliest, Forestry Bureau Conservation Division Director Kuan Li-hao (管立豪) said.
Other coral species are regulated under the Fisheries Act (漁業法), which allows limited commercial harvesting, Kuan said.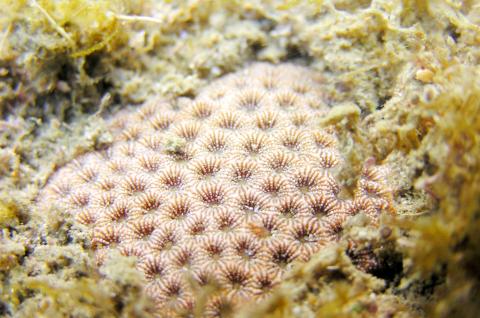 The rare coral species Pseudosiderastrea formosa, found in waters near Taitung County's Shanyuan Bay, is pictured in an undated photo.
Photo courtesy of Chen Chao-lun
The two species were discovered by Academia Sinica research fellow Chen Chao-lun (陳昭倫) and were recognized as new coral species in 2012.
P chiashanensis is named after Kaohsiung's Takao Hill (also named Chiashan, 柴山), because it was first found in waters near Chiashan in 2010.
The species is distributed in a limited area off the 2km-long coast between National Sun Yat-sen University and Chiashan, with a small population of only 300 individual colonies, Chen said.
Its only known relative, Polycyanthus isabela, is found in the Galapagos Islands and was recognized as an endangered species by the International Union for Conservation of Nature and Natural Resources in the 1990s.
P formosa is only the second species of Pseudosiderastrea coral identified and 77 years have passed since the first species, Pseudosiderastrea tayamai, was found in 1935 in waters between Australia and Papua New Guinea.
P formosa has a wider distribution, and it can be found in waters near Pingtung County's Kenting (墾丁) Taitung County's Shanyuan Bay (杉原灣) and Orchid Island (Lanyu, 蘭嶼).
Only about 100 individual colonies can be found in each of its habitats, Chen said.
"Both Pseudosiderastrea formosa and Polycyanthus chiashanensis live in shallow waters near coasts and can be easily threatened by development, such as the construction of National Sun Yat-sen University and planned hotel projects in Shanyuan Bay," he said.
"The two plain-looking species look like rocks, and only about five people in Taiwan have the ability to identify them," Chen said, brushing aside concerns about poaching and destruction by visitors following the recognition of the two coral species.
While most nations have declared all corals protected species, Taiwan has not in the past officially recognized any species as protected.
While conservationists and academics have urged the government to declare more corals protected, Kuan said that all coral species, except for P formosa and P chiashanensis, are under the management of the Fisheries Agency, which allows fishermen to harvest a limited amount of coral for profit.
"There are conflicts between trade and conservation," Kuan said.
"It is not necessary to list corals as protected species to protect them. The Fisheries Agency and local governments can simply ban the harvest of rare corals, as the Kaohsiung City Government did following the illegal harvest of coral in waters near the Pratas Islands (Dongsha Islands, 東沙群島)," Chen said.
Comments will be moderated. Keep comments relevant to the article. Remarks containing abusive and obscene language, personal attacks of any kind or promotion will be removed and the user banned. Final decision will be at the discretion of the Taipei Times.