Environmentalists launch tree frog-removal project
An invasive species, the spot-legged tree frog, has reportedly disrupted the local ecosystem, prompting conservationists to track down and remove the animals from wetlands.
Members of the Wild Bird Society of Yunlin and the Taiwan Sustainable Union on Saturday launched an operation to remove the frogs from local forests, saying they were concerned that the frogs, which breed rapidly and feed on the eggs and tadpoles of local frog species, are a threat to the survival of the indigenous population.
Taiwan Sustainable Union secretary-general Chan Tsung-ta (詹宗達) said the spot-legged frog is indigenous to southern China, Indochina and South Asia and was first seen in Taiwan in Taichung in 2006.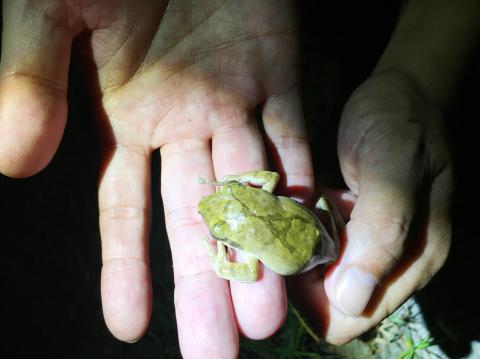 A man holds a spot-legged tree frog in Yunlin County on Sunday.
Photo: Huang Shu-li, Taipei Times
Given their rapid breeding habits, after just 10 years evidence of the species can be found in the farmlands of most low-elevation areas, wetlands and ponds across Yunlin County.
Chan said that research has turned up traces of the spot-legged frog in the townships of Cihtong (莿桐), Siluo (西螺), Erlun (二崙), Lunbei (崙背) and Baojhong (褒忠).
On Saturday, members of environmentalist groups braved rainy weather to hunt for the frogs along the riverbanks under Siluo Bridge and other low-elevation areas in Siluo Township.
The team said they discovered tadpoles in ponds at vegetable farms and in gardens, as well as finding adult frogs in bushes and papaya trees.
They handed the captured frogs and tadpoles over to biologists for research.
"As a tree-dweller, the spot-legged frog has no natural competitors for food in lower-elevation areas. Insects are a staple of the frog's diet, but researchers have discovered that they also feed on the eggs and tadpoles of other frog species," said Chang Heng-chia (張恆嘉), a teacher and council member of the Wild Bird Society of Yunlin.
"Any time a rapidly reproducing foreign species is introduced into a new environment like this it jeopardizes the survival of local species," Chang said.
He said that inexperienced people might misidentify the native brown tree frog (Brauer's tree frog) as the spot-legged frog, citing similarities in size and appearance between the two.
"It is not recommended that you catch the frogs yourself. If you find what appears to be a spot-legged tree frog, please call the bird society or the county government and someone will be sent to investigate it for you," Chang said.
Comments will be moderated. Keep comments relevant to the article. Remarks containing abusive and obscene language, personal attacks of any kind or promotion will be removed and the user banned. Final decision will be at the discretion of the Taipei Times.